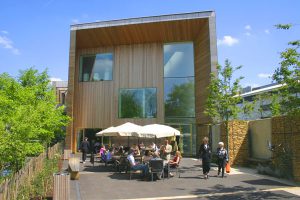 On the 15th of September 2007 The Lightbox opened its doors to the public in Woking, Surrey. The venue itself is an exhilarating gallery space and museum that is supported by many companies including the Heritage Lottery Fund and the Arts Council England, designed by Marks Barfield the architect of the London Eye, the architecture of the building is beautifully unique and modern. With facilities available such as galleries, corporate function room, educational room, cafeteria and gift shop the Lightbox is the focal centre for the local community. Ampetronic induction loop systems have been installed to help ensure that the hard of hearing visitors can experience the same immersion into the audio aspects of all of this extraordinary buildings facilities.
Ampetronic induction loop equipment is installed throughout The Lightbox including the larger gallery, smaller gallery, corporate room, educational room, cafeteria, gift shop and the directors meeting room. The installation and design process had some interesting challenges, firstly, many of the rooms are within close proximity to one another, therefore, safeguarding against any cross interference was crucial. Secondly, because of the structural properties of The Lightbox, the building contains a large amount of steel mesh and reinforced concrete floors, this meant that our designs and equipment had to ensure distortion due to metal interference was kept to an absolute minimum.
The success of our solutions was based on our expert knowledge of induction loop technology and a phenomenal relationship with the installers. Our skilful designs and equipment were perfectly installed and implemented by Scanaudio, demonstrating their intense ability to understand and produce results within complex installations.
Equipment used
Image credits – The Lightbox Courtyard © The Lightbox