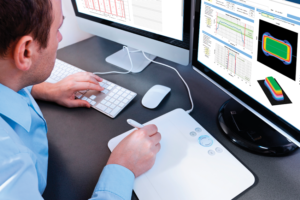 Ampetronic can provide a hearing loop design service which will offer you an installation drawing of a Standard compliant solution to any loop installation you may be involved with.
Complex MultiLoop™ installation drawings are normally produced within 7 working days (average) and are charged at published rates on a per-room or per-unique area basis. For each project a charge will apply to every different installation drawing. Identical rooms within the same project will attract only one charge. Simple perimeter loop drawings will not be charged for.
Each installation drawing gives you:
Scale drawings of the room showing the precise layout of loop wires
Layout drawings for each loop array
Electrical connection drawings
A set of written design notes detailing assumptions, project specific information, expected performance and required equipment list
A typical output of our hearing loop design service can be seen below (N.B. This is only an indicative representation designed to address specific area dimensions and environmental concerns. It must not be used as a generic template as this will likely result in a system that does not perform correctly).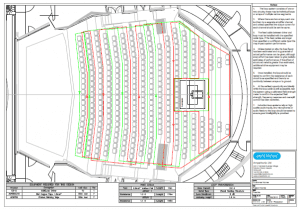 Installation drawings rely heavily upon the quality of information supplied to us. In particular, accurate scaled building drawings and floor/ceiling construction are essential together with all the same detailed information as for quotations.
Please complete the installation drawing / quote request form and our Support team will contact you within the next working day. 
For alternative assistive listening solution designs please visit https://av.ampetronic.com