Speech transfer and window intercoms
Enable your workforce to work safely and communicate effectively using window intercoms.

All employers have a duty of care to identify and manage risks to ensure that the workplace is safe particularly during times of high risk. The best intercom window systems ensure seamless communication and at the same time maintain social distancing and general safe working practices. Where guidelines cannot be followed in-full businesses need to take all actions possible to reduce the risk between their staff and their clients.
TalkPerfect duplex window intercom system 
Full duplex (two-way, dual-way) communication
Multiple microphone and speaker options
Simple hearing loop integration
Compact, robust design
Low cost of ownership
5 year warranty
(accessories carry a 1 year warranty)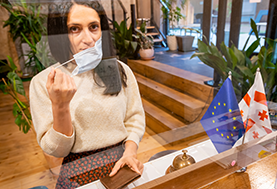 Staff side
Safer, less demanding communication
Speaking to customers for hours behind a counter can be tiring, particularly if a protective screen or window is in place. The TalkPerfect from Ampetronic amplifies speech across windows reducing the need to constantly strain your voice to be heard, making talking easier and less tiring.
Holes and gaps in the window are no longer required ensuring there is a complete barrier to direct contact with multiple clients, protecting those working on the staff side from airborne and particulate illnesses.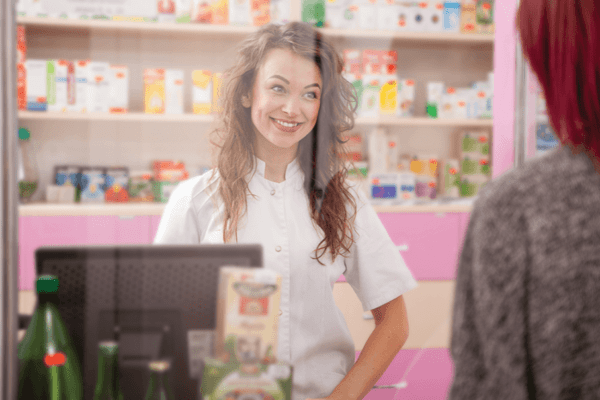 Client side
Clearer, more inteligible information
The TalkPerfect enables clients to hear instructions, directions, guidance and conversation clearly and safely through protective window barriers.
Utilising the quality and intelligibility that Ampetronic are known for, the TalkPerfect offers the best in amplified sound across screens and windows.
With the addition of a CLD1 hearing loop, to the TalkPerfect, customers and clients who have hearing aids and cochlear implants in the 'T' or 'MT' setting can also benefit from access to clear speech transfer.
Speech transfer and window intercoms
The TalkPerfect duplex window intercom system is designed to improve communication at fixed screen security counters. Based on proven, reliable and patented technology, the full duplex (two way) system amplifies speech for both customer and staff whist minimising background noise and actively reducing acoustic feedback.
The intercom's modular design, contemporary styling and wide range of accessories means the TalkPerfect DX system is always easy to install and never looks out of place with the aesthetics of the building, whether it is for a retrofit or new build application.
The TalkPerfect duplex intercom speech transfer not only comprises a full duplex intercom system, reinforcing communications from staff to customer and customer to staff with high quality amplified sound, but is also simple to install, does not require an external computer of software to set up, and once installed it is designed to function without further intervention.
The Ampetronic TalkPerfect amplifier is typically installed below counter in conjunction with a CLD1 induction loop, providing a fully integrated intercom and control module, with a host of features for integration and versatile use.
CE marked to all relevant safety and EMC standards.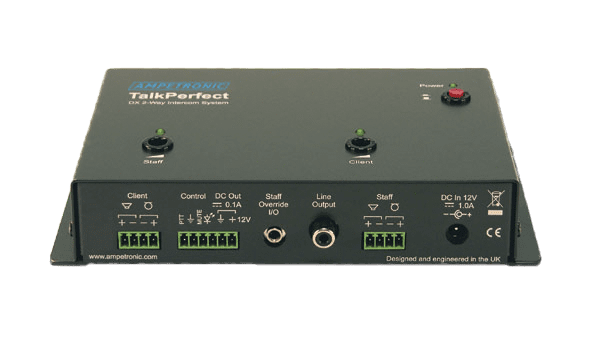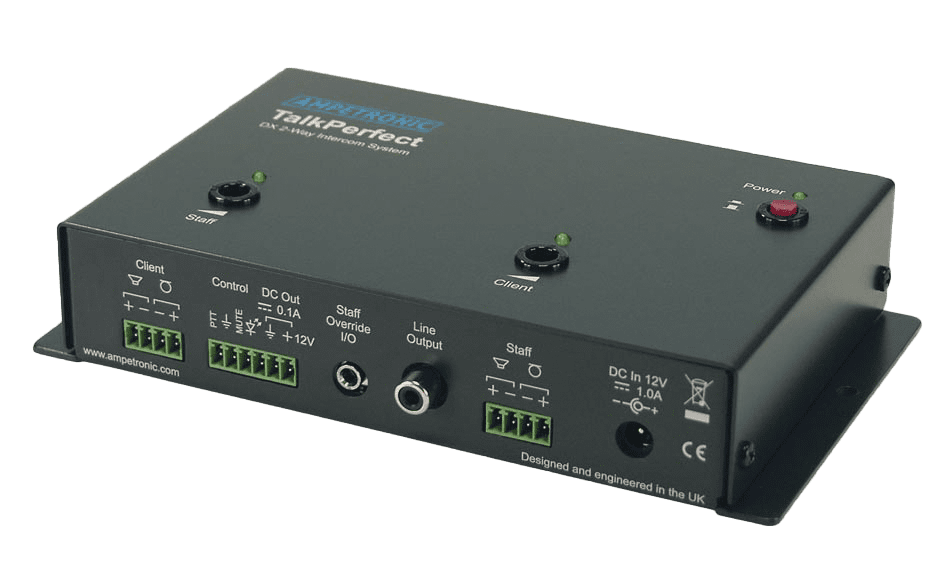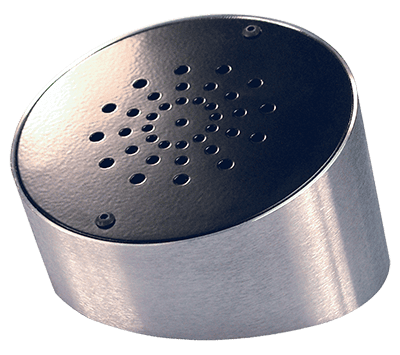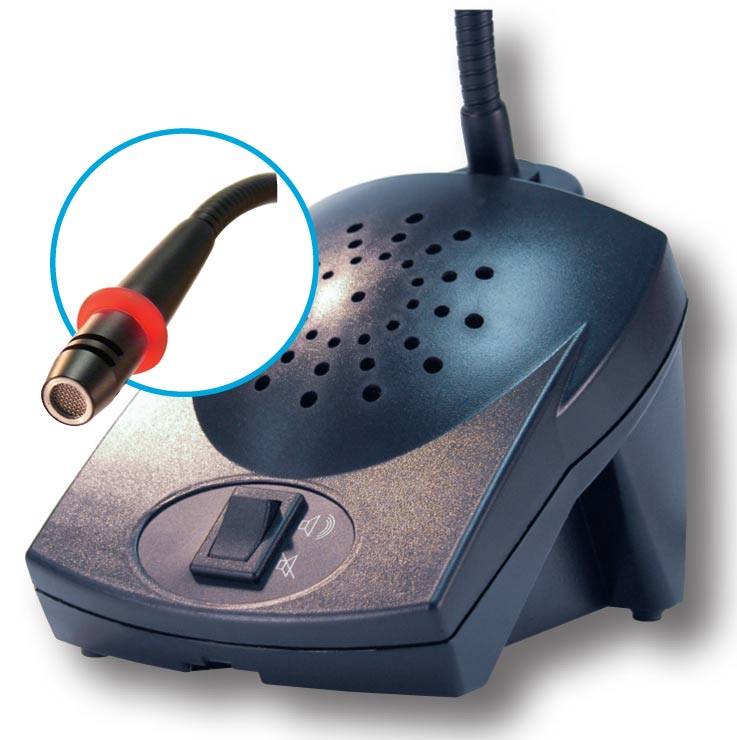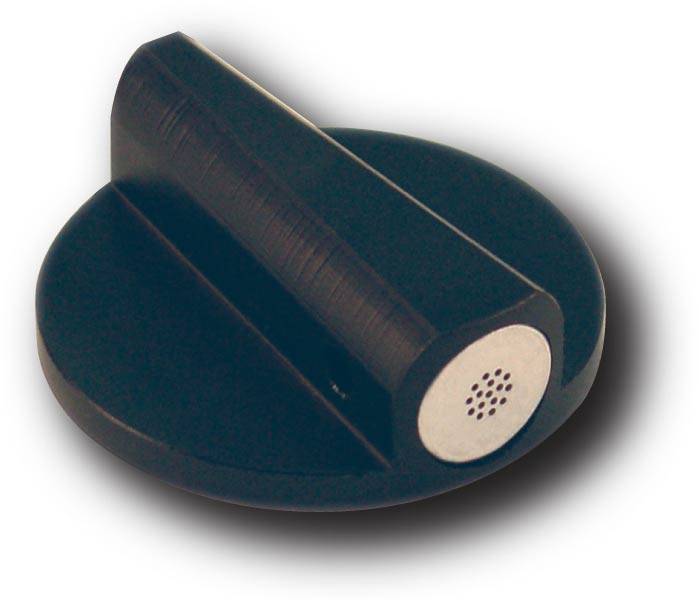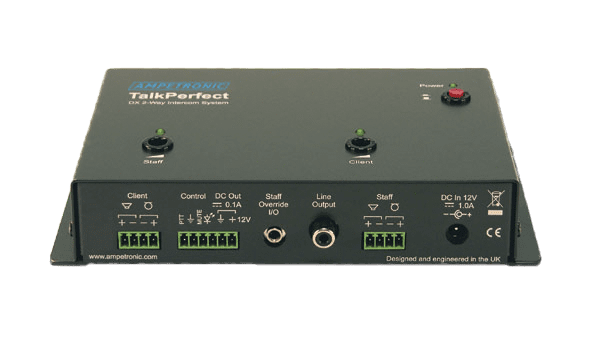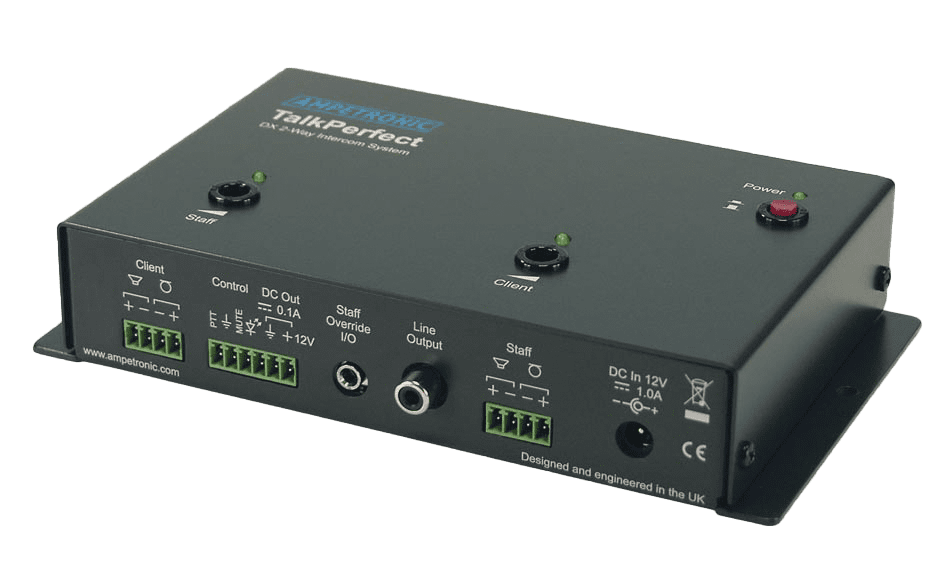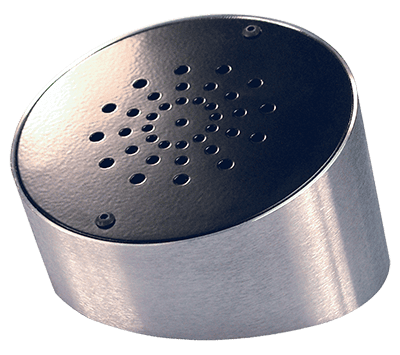 Full duplex (two-way, dual-way) communication
Feedback and echo suppression built in
Multiple microphone and speaker options
Simple integration to CLD1 loop amplifier
Compact design
All connections are on one panel for ease of installation
Fully adjustable gain on both channels
Low cost of ownership
5 year warranty (NOTE accessories only carry a 1 year warranty)
| | |
| --- | --- |
| Mic inputs | Suitable for unbalanced electret capsules |
| | DC bias voltage: 6V through 1kΩ |
| | Suitable source: 1kΩ |
| | Input impedance: 8kΩ |
| | Input noise level: -124dBu |
| | |
| --- | --- |
| Speaker O/Ps | |
| | Bandwidth: 20Hz - 10kHz. |
| | Min load: 4Ω, Max output level:+14dBu |
| | |
| --- | --- |
| Control Port | LED output connects to combi mic speaker to indicate if system is active i.e. Mute turns LED off |
| | PTT & Mute are active low |
| | +12Vdc for external module supply. 100mA fused |
| | |
| --- | --- |
| Staff Override | Unbalanced Line I/O using 3.5mm jack socket |
| | Input = Tip, Output = Ring |
| | Input sensitivity -10dBu with 1kΩ source |
| | Output level max: +4dBu, typical -10dBu |
| | Output Z: 220Ω |
| | |
| --- | --- |
| Line Output | Unbalanced phono socket for connection to CLD1 line input - cable supplied |
| | Voltage (dc) 12Vdc, Quiescent: 170mA 2W, Maximum: 1.0A 12W |
Physical
| | |
| --- | --- |
| Dimensions & Weight | width 200mm, depth 110mm, height 44mm, 475g |
| Temperature Range | -10 to +45ºC, 20 to 90% humidity |
Accessories
| | |
| --- | --- |
| Microphones | POD Microphone, Combi Unit, Glass Mount Microphone, Audio Tray |
| Speakers | POD Speaker, Combi Unit, Audio Tray |
CE marked to all relevant safety and EMC standards.
The TalkPerfect can be supplied in kits to suit any environment and application:
| | | |
| --- | --- | --- |
| Kit code | Description | Notes |
| TP-KIT1 | Talkperfect Kit1 1 Glass Mount Mic, 1 combi  + 1 Pod speaker | Normally provides best volume and sound quality |
| TP-KIT3 | Talkperfect Kit3  1 Pod Mic, 1 Pod speaker + 1 combi | For robust, vandal proof installations |
| TP-KIT4 | Talkperfect Kit4  2 Pod Mics + 2 Pod speakers | Where public access is required on both sides of the window |
| TP-UX | Talkperfect Unit, PSU + M/Lead | Basic amplifier - no mic or speaker accessories |
Book a demonstration
For more information on these products or any other requirement you may have, please complete the form or call us on +44 (0) 1636 610062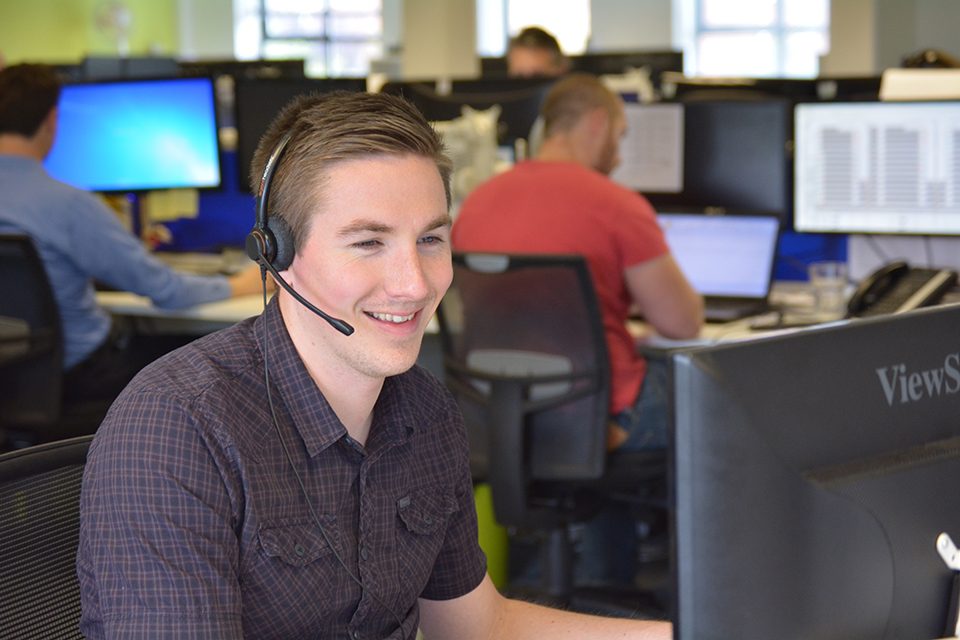 We offer free advice and guidance to all of our customers on any subject related to induction loops and assistive listening systems.
Our information centre also contains a great deal of useful material. If the website does not answer your questions please contact us by phone, email or talk to us through Live Chat.
We will endeavour to respond to any enquiry within 1 working day.
Telephone: +44 (0) 1636 610062
Email: support@ampetronic.com
or click here to chat live* with our support team
*during UK office hours:  00:00 - 00:00 (GMT/UTC),  Monday - Friday