The ILD1000G sets the standard for high performance professional perimeter induction loop systems. Utilising a new amplification technology, the ILD1000G provides the highest power output available in a single channel amplifier, while halving power consumption and heat dissipation.
It features ample power to drive the largest perimeter loops to over 1300m2, and high voltage headroom to ensure high quality audio output even in the longest cable runs. All of this power and performance is packaged in an elegant and space efficient 19"1U case.
The ILD1000G is also designed for versatility, with 3 configurable inputs to cope with any scenario, usable freestanding, wall mounted or rack mounted with the included brackets. The ILD1000G is built to our exacting standards and is backed by our 5 year warranty.
Applications include
Conference facilities

Large places of worship

Theatres

Sports halls

Lecture halls

Cinemas
Equipment supplied as standard with the ILD1000G
Handbook and installation instructions

197 x 252mm loop system present sign (deaf logo)

Region specific mains cable

Loop connector

Rack mount brackets

Status Connector
Comparing the Ampetronic C-series vs ILD Range of Amplifiers
The Ampetronic C-series hearing loop drivers mark a substantial development in assistive listening technology. Each of the new drivers in the range offers key advantages over the previous ILD series:
• Class 'D' drivers in the C Series ensure minimal energy loss to heat, which in turn reduces running costs, extends product life, significantly reduces carbon footprint, and protects your investment.
• For example, over a year when using a C7-2 you could potentially use one fifth of the power required by an MLD7.
• The combination of a DSP and Class 'D' output stage has allowed us to achieve a frequency range beyond that mandated in the IEC60118-4 standard. This means that the end user can expect
better reproduction of high-frequency content when compared to that of an analogue hearing loop driver.
• "Standby" mode allows for reduced power consumption when the system is not in use, with advanced audio detection allowing the amplifier to jump back into action delivering signal when needed.
• Simple digital interface for accurate setup and adjustment, with advanced metal loss control for flat response, ensuring IEC60118-4 standard compliance across the full area.
• Network connectivity for remote reporting, commissioning, and adjustment.
• DANTE enabled versions available.
Each amplifier in the ILD range has an equivalent C-series driver, here are some quick comparisons:
ILD Range
C-Series Equivalent
ILD300
C5-1
ILD252
C7-1
ILD500
ILD9
C10-1
ILD1000G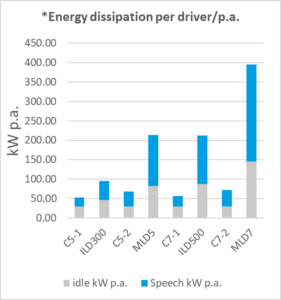 To find out more about the new C-series range, get in touch with us at the contact details below, or your local Ampetronic distributor!
Product code:
The ILD1000G Professional rack mountable loop driver is now

obsolete

- please see C10-1 Perimeter hearing loop driver