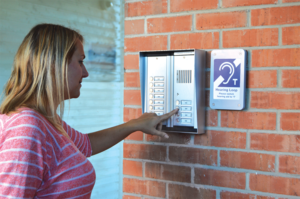 Communicate directly with hearing aid users
Make help points and intercoms accessible
Provide consistent and intelligible sound for hearing aid users
Intelligible speech transmission, can be especially problematic in busy or outdoor environments, where there is high noise which can be distracting for a user.
Problems are exacerbated if an assistive listening system in use has been poorly specified or installed, particularly when:
metal is present in intercom housing or surrounding structures
there are physical barriers between listener and orator
For those using assistive listening technology, connecting with staff and assistance, can be made less challenging, by discretely linking directly to the intercom or help point via their hearing aid.
Ampetronic™ hearing loops:
offer direct communication to users via their existing hearing aid without need for additional receivers
improve experience of hearing aid users, by making help points and intercoms accessible
mitigates inherent difficulties for hearing instrument users when using intercoms with small speakers in acoustically noisy environments
Ampetronic™ speech transfer systems enable effective communication through physical barriers such as security screens and enclosed kiosks, for all users.
Ampetronic™ hearing loops and speech transfer systems can be integrated into new builds or retro-fit into existing structures.
For more information on hearing loop design to meet regulatory Standards  for hearing loop installations, contact our friendly and knowledgeable team on +44 (0) 1636 610062 or email sales@ampetronic.com.