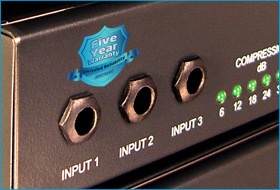 Ampetronic designs all of our products to exceptionally high standards of robustness and reliability. Our products are designed to keep on working well past the lifetime of standard audio-visual equipment. With Ampetronic products you can install with complete peace of mind. To reinforce our commitment to quality and reliability, all of our products (excluding the items below) are covered by a five year warranty.
Warranty terms
Ampetronic offers a five year warranty on products manufactured by us effective from date of shipment, provided the equipment has been used exclusively for the intended purpose and has not been modified, altered, used in an inappropriate manner or repaired by a non-authorised person. Please note that warranty periods start from the date equipment is despatched from Ampetronic and not from the date of installation. The 5 year warranty is dependant on products having been registered at time of purchase, unregistered products have a 2 year warranty term.
A full Statement of Limited Warranty is available here - Ampetronic Statement of Limited Warranty
Log in to Loopworks to register your warranty
Repairs
Ampetronic will organise repairs to equipment as efficiently as possible. Repairs will not affect the terms of the warranty.  Items sent for repair outside of the warranty period will incur a charge and will have a 6 month warranty on the workmanship and components involved in the repair.
Exceptions
A few items are not covered by the Ampetronic 5 year warranty:
R1 Loopworks Measure Receiver carries a 1 year warranty
Batteries fitted to the HLS-2B carry a 1 year warranty
Products and accessories not manufactured by Ampetronic including microphones and external power supplies are covered by a 1 year warranty
Headphones (for the ILR3/ILR3+) are covered by a 6 month warranty
Log in to Loopworks, call +44 (0) 1636 610062 or email sales@ampetronic.com to register your product. Repair requests can also be made through Loopworks.