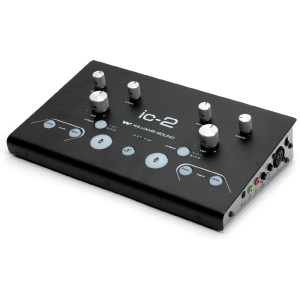 The IC2 from Williams AV and soon to be released Convey Audio systems can be integrated with Williams' wireless audio  products to provide both human-led language interpretation and machine-based translation solutions.
Ampetronic are proud to be the strategic partner for Williams AV and distributor of Interpretation and translation systems in the UK and distributor partner in Europe.
For UK customers please visit https://av.ampetronic.com for more information.
For customers outside the UK please contact your local Williams AV Professional Audio dealer.

Real time translation system – Convey Video: Williams AV is making inclusion easier for all with the new real-time, open captioning system with translation abilities, Convey Video. Through the power of AI, Convey has the ability to translate audio from up to 27+ languages and more than 70 dialects, and create live translated captions to overlay on a video.
The Williams Interpreter control console is an audio control center for simultaneous interpretation of one or more languages. As a stand-alone unit, it allows one or two interpreters to monitor floor or relay sources, activate microphone inputs, and route the interpretation signal to one of two language groups. Ideal for presentation-style conferences of up to 14 languages, where a floor and a single relay language are used. Can be used with Williams Sound FM, infrared and Digi-Wave™ transmitters for portable or fixed installations.
Williams AV Digi-Wave tour-guide and personal intercom solutions are a lightweight, portable, two-way technology designed to connect you to others instantly. Select from the tour-guide and intercoms products below.