Hearing loops at the Queen Mary University, Malta campus
Queen Mary University Malta campus is internationally recognised as being at the forefront of medical education. This, together with the country's long history of medical systems and healthcare excellence (ranked 5th in the World Health Organisation's ranking of world health systems), made Malta an optimal choice for Barts and The London's global growth.
The building of the Barts and the London School of Medicine and Dentistry, for the Queen Mary University, Malta campus, was completed in November 2019. In 12 rooms across 2 buildings of the campus, hearing loops systems were installed by Integrate supported by Doneo and Ampetronic.
Many of the looped rooms were located in close proximity to each other. In view of this, close attention was given to spill. In addition, several of the adjacent loops had to work separately or together, as one, to cater for the whole audience when the rooms were combined into a single space. One of the loops was installed in an auditorium with tiered seating.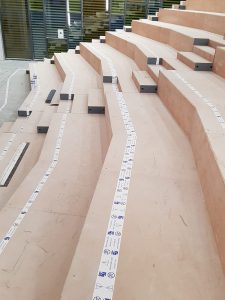 Most of the loops were designed as low spill multiloops using Loopworks Design Tool from Ampetronic. The auditorium system was designed by Ampetronic's team of engineers to ensure the more complex shape and height of the system was accurately modelled. All designs ensured overspill between areas was kept to a minimum.
Two of the loop designs had to be coordinated with recesses in the floor that catered for infrastructure cabling that were done in place of raised flooring.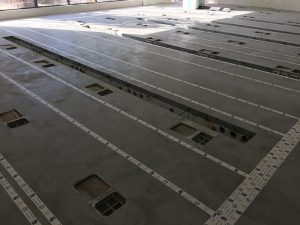 The loops of the first building were realised within a week, while the other loops in the main building were implemented over a period of 5 months in order to accommodate the project plan.
All the loops performed as intended following the commissioning tests carried out using Loopworks Measure R1 and LoopLink.  The performance of the loops and amount of spill was within Standard (IEC 60118-4).
The D10-2 amplifier from Ampetronic was used for all loops except for two, in which the D7-2 was deemed more appropriate.
Due to a membrane preventing fixation to the floor, which was laid out in advance, three of the loops were installed using direct burial cable enclosed in conduit.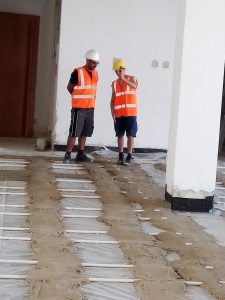 All other loops were installed using 1.8mm flat copper tape.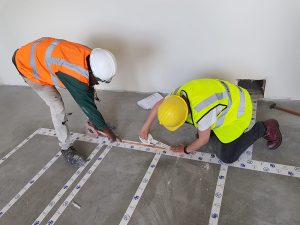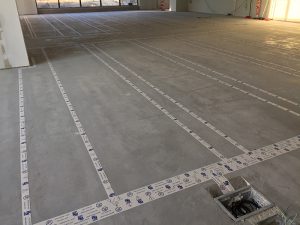 Used on this project: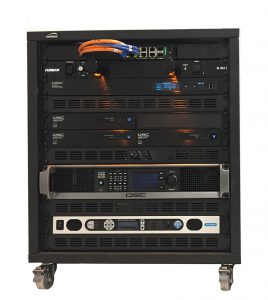 For more information about this case contact:

Integrate
+356 99875113
info@integrate.com.mt
https://www.integrate.com.mt/
Special thanks also to

For more information on projects like this contact our friendly and knowledgeable team on:
+44 (0) 1636 610062
sales@ampetronic.com
Images courtesy of Integrate.