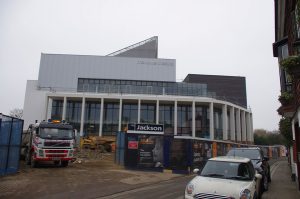 The New Marlowe Theatre in Canterbury is a nationally recognised theatre rich in history. It is a creative space in which performing arts, shows, gigs and creative workshops take place inside the new beautifully constructed building. It was during this rebuild that the need for Assistive listening Devices was first identified and Ampetronic hearing loops were chosen for their reliability and versatility.
Much of the design work took careful consideration of other hearing loop systems being planned and installed into the facility as the magnetic overspill had to be carefully managed so that the systems did not interfere with one another.
Studio Floor
The studio floor is designed to be used as a creative space so it was essential that any installed hearing loop did not interfere with the usability of the space whilst taking into account a complex and changing environment. The subsequent loop was custom designed to achieve coverage of the area whilst also not interfering with other systems.
Equipment used for the Studio Floor
Studio Seating
Because of the very close proximity of the studio floor hearing loop attentive design, simulation and testing had to be commenced in order to ensure that the loops could be used for separate purposes whilst not interfering with one another. The resulting system is now very versatile and provides the upmost benefit to that of the end user.
Equipment used for the Studio Seating
Balcony
It was identified that adjacent loops would not interfere with another here so the resulting design although an unusual shape is that of a Phased Array design.
Equipment used for the Balcony
2 x ILD500
1 x SP5
6 x Flat Copper Tape
Theatre stalls
This was a much larger area and therefore required a more powerful amplifier, the Ampetronic ILD1000G was chosen as it drives ample power to the loop to generate a Standard compliant field strength and has the voltage headroom to maintain intelligibility of the audio signal. The Low Loss design did not have to consider adjacent systems, which was confirmed through CAD modelling of the signals before the installation commenced.
Equipment used for the Theatre stalls
2 x ILD1000G
1 x SP5
The installers Northern Light seamlessly implemented our designs and installed all of the hearing loops perfectly. The final systems are now providing much value to those with hearing loss that attend and use the facilities at the New Marlowe Theatre.
Image Credit – JoshTechFission