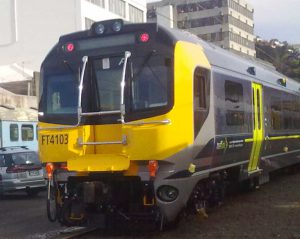 When Greater Wellington Rail LTD wanted to produce a new fleet of Matangi class trains they required an environment where all of their customers could access the same public announcement and emergency audio information equally. The trains themselves service the capital city of New Zealand, Wellington and were created by Hyundai Rotem in South Korea.
A unique challenge was proposed with the installation of hearing loops on trains, firstly the constant vibrations mean that any hearing loop system used needs to be rugged and reliable. Secondly the amount of metal used in the construction of the trains can have adverse effects on the magnetic field containing the audio signal, such as frequency change and loss of field strength.
These above problems have been overcome with expert loop design, installation and purpose built equipment. One XA88 loop driver is installed on a total of 96 carriages (48 2-car trains) across the network. The XA88 was chosen because it is an extremely rugged and powerful induction loop that is specifically designed for such environments. Working closely with the Korean based manufacturer our systems where installed by Inter-M.
Equipment used:
XA88 hearing loop driver in each carriage (car)
Image source:
Capital Times