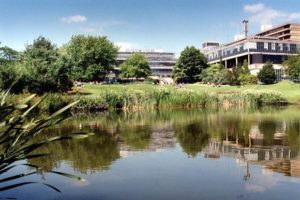 The University of Bath wanted to provide hearing impaired students with equal access to education and comply with legislation such as the Equality Act of 2010. To achieve this, induction loop equipment was seen as a vital component of the integration of audio systems that deliver genuine auditory value to their students. The University contacted Reflex Ltd and gave them the mammoth task of installing a large quantity of complex pro audio visual equipment, this of course included induction loop technology.
Originally founded in 1966 the University holds inspirational values such as "quality and excellence", this core value is something that Ampetronic can truly relate to as we have always had the desire to "deliver a genuine benefit" to both our clients and the end user; we considered it vital that designs and equipment reflect these shared beliefs.
Ampetronic provided several designs and subsequent equipment for Reflex Ltd, these were implemented by Reflex throughout various environments including lecture theatres and reception areas flawlessly. Individual circumstance had to be considered when creating each design, careful and concise installation by Reflex was paramount and the resulting induction loops have been impeccably constructed. Each system is installed to IEC60118-4 2006 standard compliance; adhering to national legislation.
Below is a list of just some of the rooms our equipment is installed in, demonstrating the different types of equipment used:
Image Source 02/01/14 – The times: Good University Guide