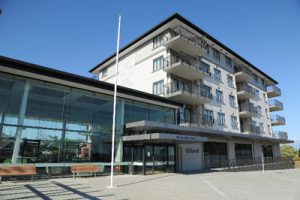 Selwyn Heights Village is owned and managed by The Selwyn Foundation, a charitable provider of independent retirement living, residential care and community services for older people. The Selwyn Foundation recognised the need for Assistive Listening Devices early on during early development and refurbishments. The subsequent hearing loops also mean that they now adhere to local legislation and provide equality of access to those with hearing loss who live within the village and use the available facilities.
Movie theatre
So that those using the movie theatre could access exceptional quality audio during the screening of films, an Ampetronic hearing loop was specified and installed. A custom phased Array system was designed here so to ensure that the hearing loop was IEC60118-4 2006 standard compliant. The resulting hearing loop has been providing much value to the people at Selwyn Heights Village and those with hearing loss can now enjoy equal access to this fantastic entertainment system.
Entry Lobby & Lounge
The entry lobby acts as an entrance to the facility whilst also being a place of congregation for the residents that live there. This was a much larger space and therefore the required coverage area was also much larger. This meant that a much more powerful amplifier unit had to be used to ensure that the hearing loop could still be brought up to IEC60118-4 2006 standard. The area is now fully covered and is providing an excellent level of intelligible sound.
The installer flawlessly followed Ampetronic's bespoke designs and perfectly integrated each hearing loop into the subsequent rooms and facilities.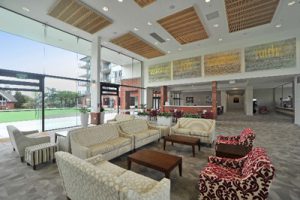 Equipment used: