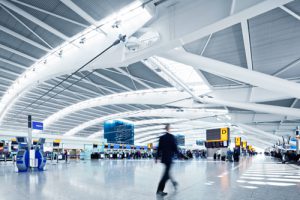 London Airport officially opened in 1946 and the renamed Heathrow Airport opened terminal 1 in 1968. It has become one of the busiest airports in the world servicing an average of 191,200 people per day and covers an impressive 1,227 hectares. To provide equal access to Heathrow's passengers with hearing loss Assistive Listening Devices such as Hearing loops were deemed as essential to conform to the Equality Act of 2010.
Terminal 2, Buildings A & B – The system covers both landside and airside lounges including 25, 36 and 38. An ILD1000G phased array systems have been used over the desired areas in Non-overlapping patterns due to screed build-up on the floor. 96 counter loops have also been installed in the check-in desks to ensure compliance with legislation and to provide necessary assistive listening in the terminal.
Terminal 5 – Covering two landside and eight airside lounges ILD1000G kits and ILC4 Combiners use low spill phased array system designs to ensure the optimum coverage of the desired areas whilst ensuring the loops are IEC60118-4 2006 Standard Compliant. Counter loop systems have also been used with a minimum of one per gate being installed.
Equipment used: