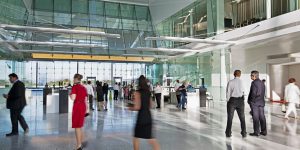 Canberra Airport was purchased in 1998 by Capital Airport Group Pty. Ltd. The airport has gone on to win "Australian Airport of the Year Award" twice! Once in 2002 and then again in 2007. Demonstrating keen commitment to excellent standards and dedication to the community and passengers that they serve. To ensure that equal access to information for those with hearing loss was adhered to Assistive Listening Devices in the form of Ampetronic hearing loop technology was deemed an essential installation.
Check-In Desk Area – So that clear communication whilst checking in is had an ILD100 Phased Array area coverage system was installed.
Air Bridge Gate 5 waiting lounge – Being slightly smaller than other gates only an ILD300 Phased array system was needed to ensure Standard Compliant coverage of the entire area.
Air Bridge Gates 6, 7 & 9 Waiting Lounges – The larger gates used slightly more powerful ILD500 Phased array systems to guarantee coverage of the area.
Equipment used:
Image Source – Canberra Airport