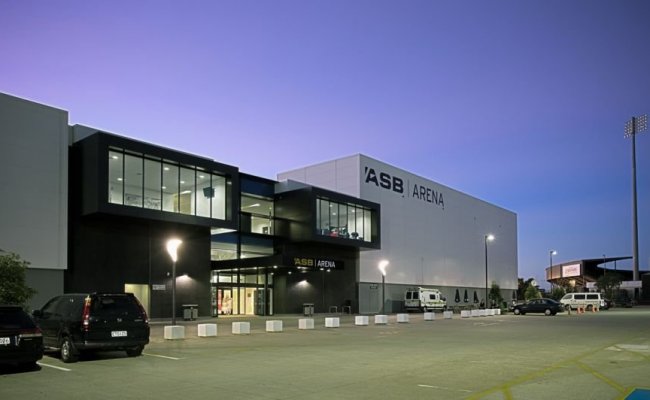 The Tauranga Indoor Sports & Exhibition Centre in Tauranga is a multi-purpose sporting and social venue that provides flexible facilities on a national level. Utilising its sports halls it is a great place for lots of different athletic activities, it is also home to exhibitions, events and even rock concerts.  The facility managers identified the need for Assistive Listening Devices and quickly realised that, due to the ever changing use of the spaces, any installed device had to be flexible, universal and transient. Therefore Ampetronic hearing loops were quickly identified and chosen as the most appropriate solution. The building itself even won a merit in the 2012 Property Council of New Zealand Tourism and Leisure Award.
The areas of coverage required were truly colossal and with retractable seating it was quickly identified that this project would need an installer with true skill and expertise, Ampetronic assisted by providing hardware, designs, simulations and onsite support. Because the areas serve such a diverse range of uses it was essential that the entire auditoriums be covered by several systems, this makes the overall system very versatile and flexible as it can be used together or in sections – depending on the need of the event.
Area 1 – This area was the largest of all and although only one design was created, five separate systems were required to cover that entire floor space. Each one of these systems used a pair of very powerful ILD1000G hearing loop amplifiers. In total ten ILD1000G can be used in synchronisation to provide coverage of the entire area. They can also be used separately if the space is required to be divided for different events.
Area 3 – This area had three very different sections, the first with retractable seating includes a design that can be folded in on itself. This complex installation required meticulous system design and simulation and a pair of ILD1000G amplifiers drive the hearing loop.
The second area was the flat floor in Area 3 with one design being used on two systems to cover the entire floor, both of these systems used a pair of ILD1000G amplifiers and an SP5 unit. The third and final section in Area 3 was Stand c, this used a more simple design and only required a pair of ILD500 amplifiers with an SP5 Phase shit/Metal Loss Corrector.
Area 5 rooms – Here a singular design was created based on the dimensions of one room, this design however was utilised in numerous rooms throughout the facility as they all have the same size and shape. The hearing loop in each system uses a pair of Ampetronic ILD500 amplifiers with an SP5 Phased Shift Corrector.
Equipment used:
Images for Illustration only. Copyright of Steelguard