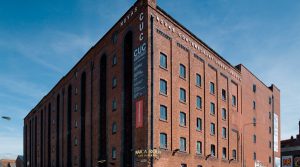 The Novas Contemporary Urban Centre in Liverpool was part of a wider family of Community Interest Companies providing unparalleled community support and development into employment. They wanted to provide equal access to all of their patrons and this of course included the hard of hearing. The charity has since sold the facility, the building is now used as a gallery, creative space and venue for hire.
Managers of the installation Stage Electrics understood that induction loops provide the best solution for the end user, Karl Formstone from Stage Electrics explains. "Novas Scarman was adamant that induction loops were to be used for the assistive listening facilities," he continues. "Because the charity's whole philosophy is about inclusion, they didn't want anyone to be easily identifiable as having a disability, so a loop system was the obvious choice. Handing out the individual units required for use with an infra-red system immediately makes a user identifiable, whereas the user's normal hearing aid is all that's required to benefit from induction loops."
Stage Electrics worked very closely with Ampetronic on this project and we provided an range of advice, induction loop designs, equipment and also further technical support (when carpet fitters cut through the copper tape 20 times). The phenomenal working relationship between Ampetronic, Stage Electrics and the Novas CUC resulted in an induction loop that is not only IEC60118-4 2006 standard compliant, but also provides a genuine benefit to its end users, the hard of hearing community.
Installation of induction loops were implemented in four areas, The Wake Theatre, Venue 2, 280 Seat Cinema and the Bird Theatre. Spill control was an issue as some of the loop installations were in very close proximity to one another and this resulted in a necessity for Low Spill Phased Array systems to be implemented. The Bird Theatre and the 280 Seat Cinema installations were fairly straightforward, The Wake Theatre and Venue 2 however provided some interesting challenges.
The Wake Theatre has a retractable seating area, therefore the loop coverage area changes as and when the seats are moved. This was overcome by the design of a complex induction looping system, six loops created three low spill array systems in different areas of the same room to ensure each area could be covered at all times.
Another challenging installation was Venue 2, a considerable amount of loss was caused by an electrical substation being located within the room. To resolve this issue a twin loop was combined with a Low Spill Phased Array system using very powerful induction loop drivers (ILD1000G) to ensure the system had enough current.
The resulting systems are exceptionally reliable and provide the greatest audio experience, Karl concludes with "Every room had to conform to the latest standards and, thanks to having such a good working partnership, the client has complete confidence that the job is done to an extremely high standard."
Equipment used:
The wake theatre – six amplifiers and phase shifters created three low spill array systems in different areas of the same room.
– Retractable Seating area –  ILD500 Low Spill Phased Array Kit
– Main floor space – ILD500 Low Spill Phased Array Kit
– Floor behind the seating area (for when it is retracted) – ILD500 Low Spill Phased Array Kit
Venue 2 – a twin loop Low Spill Array installed – ILD1000G loop amplifiers (sp5 metal loss corrector)
280 Seat Cinema – ILD500 Phased Array Kit
Bird theatre – ILD500 Low Spill Phased Array Kit
Image credit
Culture Pool