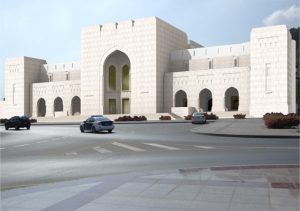 The National Museum of Oman is located in the heart of Oman's capital Muscat, just off the coast of the Arabian Sea. It is set to become an unforgettable institute of culture within the capital, displaying artefacts from all over this proud and magnificent country. As part of an aspiration to achieve brilliance and to provide equal access to all of the Museums visitors, the National Museum of Oman wanted to install the highest quality Assistive Listening Devices, this came in the form of Ampetronic induction loop technology.
The building has a wide range of uses and this of course meant different approaches to designs, keeping in mind the individual requirements of the users in each room. Ampetronic has provided designs and equipment for exhibition spaces, seminar halls, class rooms and VIP Corporate rooms within this beautiful infrastructure.
Nasma Telecommunications LLC installed the induction loops immaculately and are responsible for providing a finished result that is second to none with regards to audio quality and reliability.
Seminar rooms one and two had adjacent induction loops within close proximity of one another so no overspill was aloud, we therefore implemented our Low Spill Phases Array loop designs to make certain that each loop did not interfere with one another. Also this helped to 'future proof' tyhe project as further induction loops could be installed in the future to the ones already pre-installed.
Because of the efficient installation, design and structure of the building most induction loops used ILD500 drivers and the more powerful drivers from the Ampetronic ILD1000G and MLD range did not need to be implemented. Every loop installed was tested and commissioned to the internationally recognised 60118-4 induction loop standard.
Equipment used:
Classroom One – ILD500 Phased Array Kit
Classroom Two – ILD500 Phased Array Kit
Arms & Armour Gallery – ILD500 Phased Array Kit
Meeting Room One – ILD500 Phased Array Kit
Lecture Room L3-32 – ILD500 Phased Array Kit
VIP Corporate Room – ILD500 Phased Array Kit
Seminar Room One – ILD500 Phased Array Kit
Seminar Room Two – ILD500 Phased Array Kit
Localised area loop – ILD122 Perimeter loop design
Image for illustration only. Copyright of Arts Architecture International.