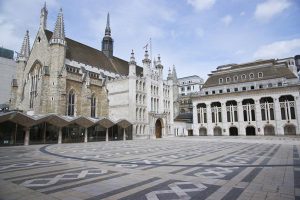 The London Guildhall is home to the City of London Corporation and acts as a venue for royal occasioning, banquets for visiting heads of state and other various prestigious events. Built between 1411 and 1440 the building has always been a unique and awe-inspiring structure for London's elite. On their website they state that "The combination of history and tradition with the very latest state-of-the-art built-in communication technology helps to ensure that events are effective and smooth-running." Induction loops are a proud part of this state-of-the-art communication technology that helps to provide assisted listening to some of London's most influential individuals.
In such a respected venue installers Asysco (now known as Pro AV) had to implement the unique induction loop designs very carefully, the building itself is a medieval grade I listed building so the entire fitting process was carefully planned and executed.
The Old Museum was a slightly irregularly shaped room and the design subsequently reflected this.  Pillars within the room were not an issue as induction loop technology uses a magnetic field to transmit an audio signal. Unlike Infra-Red or FM assistive listening systems it not necessary to have line of sight to a transmitter as the magnetic field simply passes though masonry and stone pillars. Larger and more powerful Ampetronic ILD1000G induction loop amplifiers were used here to drive sufficient current into the large phased array loop and ensure that the loop provided the highest audio quality even in such an expansive room.
In the Old Library the structure of the room becomes slightly narrower in the middle, the loop design again reflects this. Pillars in this room, although smaller than that in the Old Museum were also not an issue as the installation of the copper tape phased array loops was done in such a way as to avoid them. Again being such a large room ILD1000G units were installed to provide optimal audio to hard of hearing attendees.
The Print room however was a contrast to the other two designs as it was a very simple shaped room and was also much smaller than the above two. The loop therefore didn't need to use the more powerful ILD1000G units and instead uses ILD500 induction loop drivers to provide an equal level of service.
The resulting loops have all been engineered and installed to conform to IEC60118-4 2006 Standard Compliance and provide full coverage of all desired areas within the buildings infrastructure.
Equipment used: