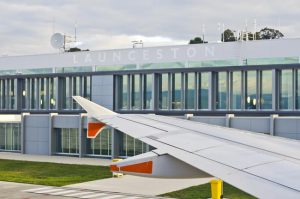 Launceston Airport in Tasmania, Australia is an excellent international airport with great company values including a commitment "to the long-term safe and secure operation of the Airport". As part of this commitment and the requirement to adhere to regional laws on the equality of access for disabled people they decided that the installation of Ampetronic hearing loop technology was essential.
The project was commissioned by our long lasting partner Hills SVL and Ampetronic was chosen through of proven experience with providing equipment to other Airports and transport facilities such as Heathrow, Berlin and Canberra Airports, the resulting Ampetronic designs were successfully installed by supplier PAVA. The installation of hearing loops has been well received and is now successfully helping hard of hearing people to access public announcement information such as health, safety and emergency.
The project was reasonably large and consisted of many various different areas, some of which needed a different approach and series of equipment such as low spill pashed arrays. We have equipment installed into the following areas:
Check-in areas
Security areas
Departures
Arrivals
Baggage concourses
Each departure gate waiting area
Retail outlets
Food courts
The phased array induction loops have been built into the floor to minimize metal loss effects and ensure that the system is consistent and reliable in an exceptionally busy environment.
Equipment Used: