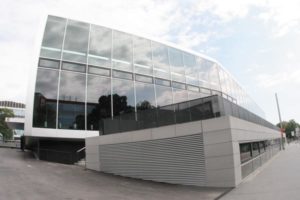 The last expansion of the Wiener Stadthalle, Hall F, was opened in 2006. This large venue in Austria has a capacity of about 2,000 seats. Each seat benefits from the advantage of a standards-compliant induction loop system and the production of high quality audio, which has been created specifically for use with both speech and music audio sources.
The system is based on two overlapping induction loops, which uses copper tape underneath the entire surface of the carpet to create a phased array design. Each array uses an ILD500 amplifier type.
Overall the visitors have been very impressed with the sound quality and the possibility of free admission.
Equipment used: