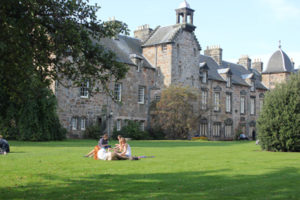 The University of St Andrews was founded in 1413, its most iconic building parliament hall however, was finished in 1643. The name of the hall derives from when parliament in Edinburgh used it between 1645 and 1646 whilst Edinburgh had an outbreak of the plague. Ampetronic have several systems installed throughout the majority of the meeting rooms and lecture theatres at the University of St Andrews, so when it came to installing an induction loop into the historic Parliament hall Ampetronic were first choice. Our equipment is described by Tommy Bruce of the university's Media Services department as "high quality, reliable, and we know they work well".
The design of the induction loop itself was relatively simple as there was no metal or adjacent loops to consider, so loss of signal was not a problem, therefore the loop could be powered by a single ILD500 unit. Installation by Streamtec however was a little more complex, as the building itself is listed and subsequently protected by Historic Scotland, Tommy Bruce of the media services department explains, "the paneling couldn't be touched. Historic Scotland had a lot of input and the overall result is a high quality system that doesn't compromise the integrity of the building at all." The solution was a simple perimeter loop mounted on the wooden floor, beneath the carpet.
With a combination of the audio visual setup and our induction loop many audio inputs can be used including laptops, DVD's, CD's, background music sources, a tie clip mic and a handheld radio microphone. Now anybody with hearing impairment can enjoy the same quality of education and interact with all the audio elements all of the presentations.
Equipment used:
Image credit – University of St Andrews Press Office.