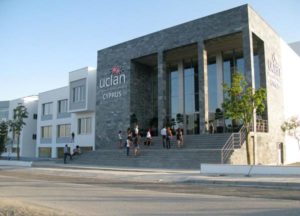 The University of Central Lancashire is an excellent centre of higher education and describes itself as "A truly global institution"that helps "people from all walks of life to make the most of their potential". UCLAN has a thriving and world-known Cyprus campus that won the Most Innovative Education Facility Award at the EMEA inAVation Awards 2013. It is this campus that Ampetronic induction loop equipment is installed, helping to instigate the universities inspiring values.
A.L.A Equipment Company Ltd were given the task to provide and install Pro AV equipment throughout the UCLAN Cyprus campus, this included Ampetronic hearing loop technology. Ampetronic produced custom designs that were utilised and installed by A.L.A Equipment Company Ltd Cyprus within a state-of-the-art teaching facility The Amphitheatre. The Amphitheatre is a lecture room that has been described as "The most innovative educational facility for technological infrastructure" and is seen as a flagship lecture theatre on the UCLAN Cyprus campus. UCLAN Cyprus were extremely eager to provide equal access to educational information for hearing impaired students in this technologically advanced facility.
A phased array kit and low loss array design was used so that any potential metal loss caused by materials within the infrastructure could be minimised, this combined with the powerful ILD500 units meant that the resulting hearing loop was Standard compliant.
Equipment Used: