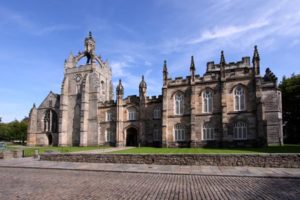 Dating back some 600 years the University of Aberdeen is the fifth oldest University in the UK, they describe themselves as "ambitious, research-driven university with a global outlook, committed to excellence in everything we do." With inspirational high equality of access values it was not only to simply adhere to Equality Act of 2010 legislation, but also because they firmly believe in delivering an equally excellent level of education to all of the students including that of the hard of hearing community that the installation of Ampetronic induction loop equipment was considered paramount.
Ampetronic have worked in partnership with the University for several years and have provided designs and induction loop equipment for use within many lecture theatres and other areas and they currently have over 100 systems installed.
Being a facility for educational excellence the timeframe for which design and installation can be completed is extremely tight with students returning every September it is vital that installation and testing be completed before they arrive.
David Walton the AV manager at the University explains why they selected Ampetronic induction loops "In the past, we got whichever company won the tender to do an AV installation to supply and install the induction loop," he says.  "But we ran into problems because people weren't as skilled at installing them as they thought and we started to have problems with spill from adjacent rooms, and so on."
David has continued to speak very highly of Ampetronic induction loop equipment and installers Streamtec "We're really pleased with both Ampetronic's systems and the work that Streamtec did," says David.  "As well as in teaching spaces, we've fitted Ampetronic induction loops in a number of reception areas."
Equipment Used: