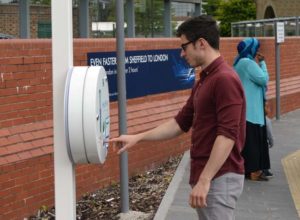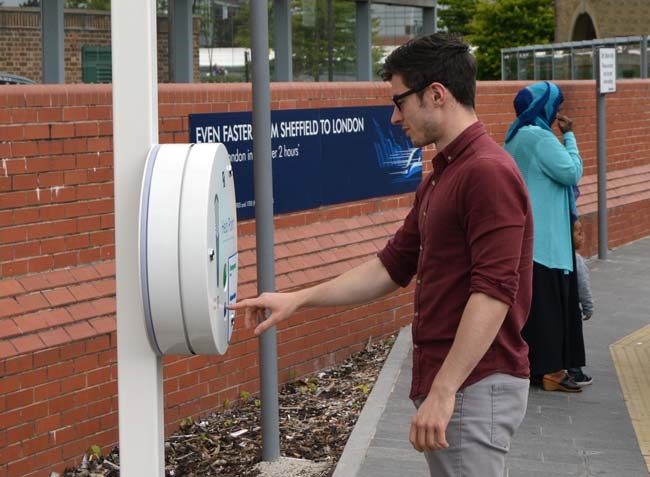 Ampetronic has been working with Trans Data Management (TDM) for over ten years and the partnership has paved the way for the adoption of assistive listening technologies in public Help Points across the UK rail network. Both companies believe that the best way to positively impact on the travelling experiences and safety of people with hearing loss, is to specify the best and most appropriate assistive listening systems, and to integrate these systems into engineered solutions.
Ampetronic's Marketing and Communications Manager, Alistair Knight, added: "The only suitable assistive listening technology for Help Point situations, where there is a high volume of transient individuals and no practical capacity to hand out receivers, is a Hearing Loop. Hearing Loops function by connecting directly to the users own receiver, their hearing aid."
To vastly improve the level of service offered to people with hearing loss, and in the case of Help Points in particular which are used in both assistive and emergency situations, to comply with equality of access to services legislation, it is necessary to integrate an induction loop amplifier and loop in order to couple the audio directly with the hearing aid.
First launched in 2003, Ampetronic's HLS02 is a small area coverage audio induction loop driver, purpose built for integration into communication systems such as Help Points, car park barriers and drive-throughs. TDM adopted the technology from the outset, rolling it out in over two thousand Help Points across the UK.
TDM has now embraced Ampetronic's NEW HLS-DM2, taking the first 20 production models for its upcoming train platform projects. The HLS-DM2 uses pioneering technology to reduce power consumption and subsequently heat output. It is the only small area induction loop driver capable of reliably driving most practical local area loops to meet the International IEC60118-4 Standard.
TDM's Marketing Manager, Afshin Razak added: "The Help Point has been central to TDM's business since the design was pioneered in the 1990s. With products installed on rail networks across the world, we adopted Ampetronic's HLS02 over a decade ago when it was a ground-breaking solution. We're now excited to move forward in partnership with Ampetronic and roll out the next generation of integrated induction loop drivers: the HLS-DM2."
TDM's General Manager, Paul Mead added: "The ongoing relationship between TDM and Ampetronic works because we're both committed to pushing the boundaries when it comes to selecting and integrating the right technologies, for the benefit of people with hearing loss. Quality is a key philosophy that both TDM and Ampetronic share and we're not afraid to take the right risks and know that the easiest solution isn't always the best, or cheapest in the long-run!"
Equipment used:
Installer/Integrator: