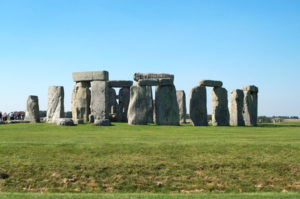 English Heritage has created a £27 million visitor centre for the world-renowned historical Stonehenge site. The visitor centre acts as an introduction to Stonehenge with ancient artefacts giving context and a huge curved screen portraying a detailed description of the known history of Stonehenge. A forensic reconstruction of a Neolithic man's face using remains found near the site has become one of the highlighted attractions.
To ensure that those with hearing loss partake in the same informational experience and that equal access legislation (such as the Equality Act of 2010) has been adhered to the use of Assistive Listening Devices was agreed upon early on. English Heritage decided that Ampetronic hearing loops provided the best and most indiscriminate solution.
Installers Wessex Fire and Security have used our equipment in display areas, education rooms, information points and counter/desk areas. MLD9 drivers have been used in the education rooms and the standing stones room, CLD1 drivers have been used for the displays and CLS1's have been used in some of the information points.
The site officially opened on Wednesday the 18th of December and has received an array of media interest with the BBC and the Telegraph both producing articles on the impressive building. This article HERE by De Zeen magazine has some stunning photographs of the architecture of the new centre and really helps to demonstrate its construction.
Equipment Used:
MLD9 MultiLoop Systems x 3
CLD1 counter loop systems on reception and information desks.
CLS1 systems on the Information points
Installer: