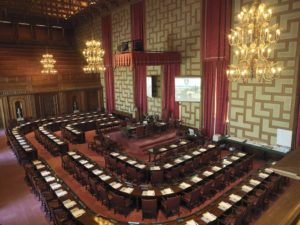 The Stockholm city hall is one of Sweden's most famous buildings. It is the host of the Nobel Prize banquet, beautiful architectural style and a 10,000 pipe organ. The building is also K marked, which is the Swedish equivalent of UK listed building status. The design was therefore carefully created and installation by Sennberg AB was coincided with the installation of a new carpet.
The hearing loop that was previously installed into the Rådssalen council chamber was extremely unsatisfactory and had received many complaints about its poor quality and in-adequate coverage. Johnny Karlsson from Sennberg AB said "I was asked to do an analysis of the existing loop system because there had been a lot of complaints about it" after his analysis Karlsson recommended that the old hearing loops be completely removed and replaced using Ampetronic equipment.
The reception of the new hearing loop equipment has been well received with Karlsson explaining that "The Ampetronic system has already made a huge difference, with many councilors commenting on the far superior performance over the old system."
Equipment used:
ILD1000G Phased array kit and Ampetronic low loss phased array loop design.
Picture credits:
Photograph – Rådssalen council chamber, city hall, Stockholm, Sweden
Photographer – Yanan Li