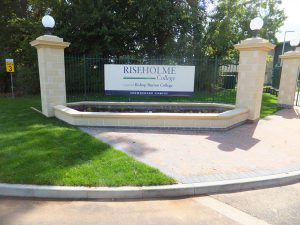 Riseholme College (part of the Bishop Burton College) based in Lincoln is a new £24.5 million Campus called the 'Showground Campus', taking its name from its location near the well-known Lincolnshire Showground site. The £13 million phase one was completed in September 2015 and the second £11.5 million phase was completed in September 2016.
The college has quickly become a widely recognised name in the educational sector for a multitude of facilities including learning resource centres, teaching rooms, laboratories, multiple engineering workshops, an industry standard animal management unit, food science facilities, a sports and health centre and even an Olympic-standard sports hall.
The hearing loops and infrared audio systems were installed as part of the College's commitment to provide equal auditory access to students with hearing loss. It also helps to comply with Equality Act of 2010 which stipulates that people with disabilities must be able to access the same level of service.
Working very closely with Seymour and Castle Ampetronic helped to provide an array of products and services including training, onsite testing and assessments. Phase one included the installation of 17 room loops, each using a single MLD7 induction loop driver to power the systems. These included eleven classrooms, four laboratories, a meeting suite and an IT room. There are also two counter hearing loop systems that each use a single CLD1 unit to provide hearing assistance at reception and service areas.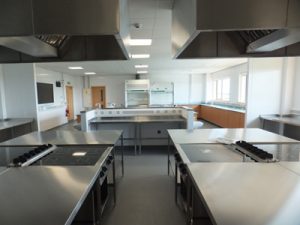 Phase two was an equally engaging project and again the Ampetronic team worked with Seymour and Castle to help design and test hearing loop systems. In total the second phase used eight fixed hearing loop installations, two permanent infrared audio systems and a counter loop driver for a reception area. The rooms included three classrooms and five laboratories.
Vertical adjacency between multiple rooms stacked on top of one another meant that hearing loop overspill had to be considered. Our engineers resolved this by performing onsite testing and found that with the high ceilings and steel deck construction there was sufficient attenuation to provide the necessary isolation between the systems. In addition to the hearing loops we helped to provide two infrared audio systems for assistive listening.
Chris Dale, Ampetronic's leading engineer on the project explains why two infrared audio systems were also used:
"Two rooms had raised metal flooring which required a large amount of access. This meant that they couldn't have tapes going down onto the floors. Normally we can work around this by avoiding specific areas where access is required. In these two rooms however, as they are flexible open working spaces, we decided to use IR (infrared). Although the rooms aren't large, we had to put in additional radiators as they are flexible spaces and naturally the direction people face can change. We wanted great audio quality for the end user so the additional radiators were a great option."
The systems have been well received and we look forward to hearing from end users in the years to come.
Phase one Kit used:
17 x MLD7 Induction Loop drivers
58 x Rolls of Flat Copper Tape
58 x Rolls of Printed Warning Tape
2 x CLD1 Counter Loop Drivers
Phase two Kit used:
8 x MLD7 Induction Loop drivers
30 x Rolls of Flat Copper Tape
30 x Rolls of Printed Warning Tape
1 x CLD1 Counter Loop Drivers
2 x LT-84 Infrared transmitter
2 x LA-141 Infrared expansion radiator
8 x LR4200 Infrared receiver
8 x LA-430 Infrared neck loop
1 x LA-381 Infrared receiver charging tray