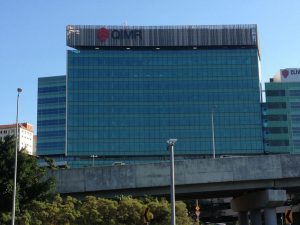 The QIMR Berghofer Medical Research Institute has history that spans more than 65 years and was recently renamed to include 'Berghofer' the last name of a phenomenal donor of $50.1 million. The Medical research centre has become one of Australia's forefront in disease research and specialises in cancer, infectious diseases and complex mental health disorders. They decided that the installation of Ampetronic hearing loops would reflect the positive work they undertake in order to help people and would also adhere to local legislation.
The 610 Common area and Staff lunch Preparation section share one very large hearing loop. Because of the large area the powerful ILD1000G units were chosen and an Ultra Low Spill Loop Design was required so as not to interfere with other systems within the building. This design ensure that intelligible audio for that of the end user is still achieved whilst controlling the magnetic field's overspill.
Our custom designed system has helped to achieve all of the client's desired outcomes and covered the entire chosen area therefore providing an impressive benefit for those with hearing loss attending the facility.
Equipment used:
Image Credit – Kgbo