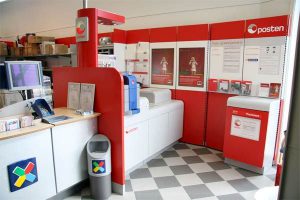 When Posten Norge the Nordic post offices decided that they would like to extenuate their customer service to the hard of hearing and deaf community, they concluded that counter induction loop systems (otherwise known as counter hearing loops) in their 'post-in- shop' was an ideal solution.
With 1,400 places of transaction across the entire group and company values such as "honesty, respect, cooperation, openness and courage", we knew that the 1,000 units being supplied had to provide excessive reliability, high performance and quality audio. Operating with our Norwegian based distributor Scandec Systemer AS the installation of these systems was part of a larger programme to see them installed across the majority of their 'post-in-shop' counters throughout Norway.
The CLD1 was the perfect solution and Bjørnar from Scandec Systemer AS stated that "The CLD1-CT is very well suited for this project because it is so compact that the unit and wiring can all easily be concealed within the counter" he continues "It is rugged and reliable enough to withstand constant use, while being very easy to test to ensure it is in optimum working order."
Equipment used:
Bjørnar states that "all-in-all it's an elegant solution" and continues with "there have been no problems whatsoever with the equipment and they are very happy with the service and technical backup from both Ampetronic and Scandec".
Project installed and managed by
Scandec Systemer AS Norway, click here to visit their website.