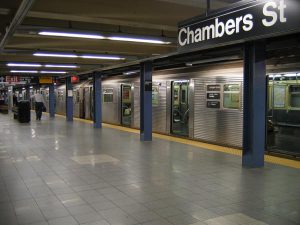 With the first underground section being built in 1904 and the first elevated rapid transit operation dating back to 1868 the NYC Subway system has a diverse and rich history that has been recognized worldwide, Ampetronic proudly became part of this history with the installation of hearing loop technology in 2010.
Thanks to a determined campaign by the Hearing Access Program (HAP) The New York City Metro Transit Authority wanted to extend their service and provide equal access to the hard of hearing community that uses the NYC subway system. Our work was part of a two year testing and evaluation with the MTA that saw the installation of hearing loops as an essential necessity for every subway help station and ticket booth. The resulting installations consist of an impressive 500 CLD1 counter loop systems fitted into stations across the entire Subway network.
Our counter hearing loop equipment installed at 66th street Lincoln Center has even been used in the demonstration video below "Hearing Loops: A demonstration of how hearing loops provide clearer sound" recorded by Richard Einhorn and installed Fred Palm from Assistive Audio INC. This video shows how hearing loops provide genuine benefit to the hard of hearing people that use them.
Equipment used:
CLD1 Counter loop systems
Video Credit – Richard L Einhorne and David Myers