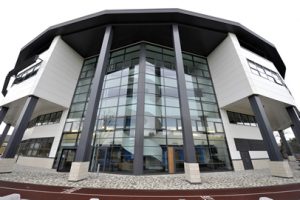 Hammersmith Academy is a newly built all-encompassing co-educational school and 6thform that specialises in creative and digital media. It is a beautifully constructed building that caters for 780 people, it prides itself in full accessibility to all four floors and it is for this reason that they decided Assistive Listening Devices in the form of Ampetronic hearing loops were the ideal solution for providing equal auditory access.
G01 Theatre
This theatre is a relatively large multi-functional space in which the need for a controlled magnetic field was essential due to nearby hearing loop systems and other devices. The design created therefore reflected this need and a pair of ILD500 amplifiers in low spill phased array configuration amplifiers were used to drive the loops.
F01 Theatre
This room had retractable seating so the design of the loop itself had to be very versatile so as to accompany the changing needs of the room. The design had to take into account the loop system installed on the floor below and a low spill phased array was used to control magnetic overspill. A pair of ILD500 amplifiers were used within this setup to provide the necessary current to drive the loops.
The Saville Group Ltd installed and implemented these impressive auditory systems within the Academy perfectly and they have since been providing a great deal of value to the students and visitors in attendance there.
Equipment used
4 x ILD500 drivers
2 x Low Spill Phased Array Designs
Image for illustrative purpose only. Copyright of Stannah.