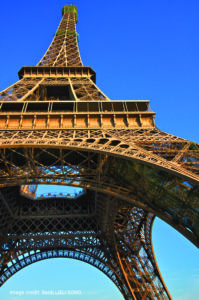 One of the World's greatest landmarks, The Eiffel Tower, which is 324 meters tall and has stood in the centre of Paris for over 120 years, now offers equal accessibility to people with hearing loss.
Following the planned construction of new facilities for receptions, dinners, private concerts, product launches and other events on the 1st floor of the Eiffel Tower in Paris it was quickly identified that an assistive listening device was required to comply with accessibility legislation and to allow people with hearing loss to make the most of what the facility had to offer.
To ensure that the Assistive Listening service offered the best quality signal possible, whilst allowing the users of the system to remain anonymous by utilising their own hearing aid as a receiver, Hearing Loops, often referred to as Induction Loops, were the obvious choice.
Ampetronic's French partner BIM Concept France were chosen to complete the project in what is a very challenging environment 57 meters above floor level, demanding the highest levels of expertise.
Marc Beaufils of BIM states that "The principle is simple, non-discriminatory, reliable and inexpensive. The magnetic field generated by an induction loop propagates in the air and also passes through all insulating materials: wood, plaster, concrete, plastic, brick, glass, etc… However, it has an enemy – metal.
The presence of metal in the environment of an Induction loop leads to a weakening and deformation of the magnetic field, and a silencing of the audio response. Therefore installation and design of loop systems that comply with the IEC 60118-4 Standard in an environment such as the Eiffel Tower (7300 tons of metal) requires a perfect parenty of these systems."
BIM worked with Ampetronic using our sophisticated proprietary software to design and simulate appropriate systems. Low spill phased array systems were designed to flawlessly compensate disturbances to the magnetic field due to the presence of metal.
The installation was completed in June. Look for the Hearing loop logos next time you visit!
Installer:
BIM Concept France
Equipment used: