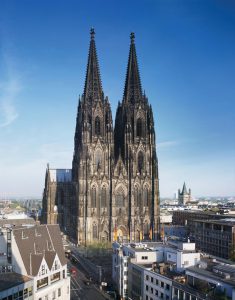 As a cultural testimony to the Kölner Dom Cathedral it was recognized by UNESCO as a World Heritage Site. It is one of the largest Gothic cathedrals in the world, also, with a daily average of 20,000 visitors, it is the most frequented attraction in Germany.
In 2010, the Kölner Dom Cathedral installed a modern sound system which includes, among other things, two induction loop systems for the hearing impaired. A range of 14 pews are supplied with an induction loop audio transmission.
Even in the early stages of the planning phase large metal losses caused by the steel reinforcement and concrete floors could be detected. This problem was overcome with Ampetronic's unique "Low-loss phased array" system and meant that the desired coverage parameters could still be achieved. Only two of our powerful ILD1000G induction loop drivers were needed for this first design. The second design, this one much simpler, is an induction loop installed in the Lady using only one Ampetronic ILD1000G amplifier, which powers this area independently.
When laying the loop the cable had to consider the existing floor joints and fortunately, due to extensive planning and simulation we were able to create impressively accurate designs with the existing construction data.
This advanced system is certainly another reason to visit the cathedral again.
Equipment used: