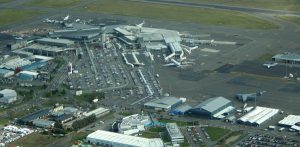 Christchurch airport is New Zealand's second largest airport and is responsible for over 5 million passengers traveling in and out of New Zealand every year. They have an excellent passion for providing an inspirationally high level of customer service, this and local equal access legislation has driven the need for Assistive Listening Devices. It was decided that Ampetronic hearing loop technology would provide the highest level of benefit to the end user that they serve.
Landside Waiting Areas – ILD1000G Phased Array Systems have been used in the landside waiting areas as the required coverage area was very large It was therefore essential a powerful amplifier be installed to ensure that enough power was being driven through the system.
Departure Gate Waiting Lounges – An equally large area that needed covering, the departure gate also required ILD1000G Phased Array Systems to ensure Standard Compliant coverage.
Equipment used:
image credit – Christchurch Airport