Zeag Parking Ltd is a world leading parking solutions innovator and as a brand incorporated into the FAAC Group it has a "worldwide reputation for reliability and durability". In order to ensure that Zeag continues to provide unsurpassed customer service they decided that the installation of induction loop technology was essential. It was also to ensure that machines used within public spaces adhered to the Equality Act 2010 and that hard of hearing customers can access an equal service of information.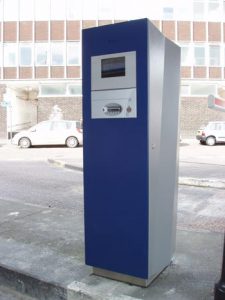 Integrated into both the barrier ticket machine and the payment machine through the intercom system the Zeag machinery received custom loop designs and testing to ensure that the integration of Ampetronic induction loops did not interfere with the mechanics of the machine and was therefore as effective and as reliable as possible.
"The induction loops were installed on top of the steel and behind the plastic front of the machine, therefore the steel construction would not interfere and they subsequently work very well" Tom Lane, Ampetronic.
Equipment used:
HLS02 inside each machine.
Amano
Amano is an organization that is recognized worldwide for providing Time & Information Systems, Parking Systems and Environmental Systems of exceptional quality. Ampetronic hearing loops where incorporated into parking systems as part of a wider project to continue providing world class customer service to end users and to also provide equal access to information for hard of hearing people using spaces where Amano parking solutions are installed.
Integrated behind the stainless steel front panel the Ampetronic hearing loop design was carefully produced to avoid already existing modules and components installed within the system. This created a finished product that was dependable and seeminglessly incorporated into the machine.
Because we have a vast array of experience with metal loss correction, intricate and difficult designs, the resulting hearing loop schematics, equipment, implementation and testing worked exceptionally well. It used the devices intercom system as part of the hearing loop itself to safeguard reliability and this particular method resulted in clear and intelligible audio.
Equipment used:
CLD1 kits in each machine