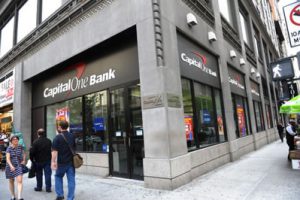 Capital One, a Fortune 500 company with headquarters in McLean, Virginia, offers a variety of financial products and services. The company decided to extend greater access to these services to those with hearing loss, and installed a compact counter hearing loop in their 77th Street and Third Avenue branches. This helped to further facilitate communication with their bankers – ensuring that each bank has systems installed at two of the teller windows and two of the banking desks.
The hearing loop systems were installed by Leo Garrison of Metro Sound Pros, who specializes in loop installations throughout New York City. Garrison ensures that his customers' hearing loop installations meet the IEC60118-4 performance standard.
The hearing loop enables Capital One Bank to be compliant with current ADA requirements and standards for assistive listening. Hearing loops are one of three technologies that are available to venues to meet ADA compliance – radio frequency (RF) and infrared (IR) are the other two assistive listening technologies.
Equipment Used:
Q400 Boundary Microphones with Cardioid Directional Pickup
12 VDC Power Supply (North America)
T-LOGO-SMALL "T" Logo Installed Adhesive Sign – Small (5.8" x 4.1")