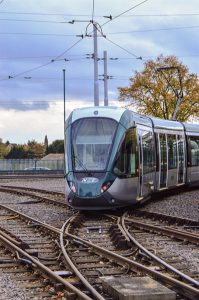 Ampetronic has been working in partnership with Nottingham Express Transit (NET), Alstom Transport and The EFACEC Group for over three years, paving the way for the adoption of assistive listening technologies across the UK rail network.
The partnership has seen the integration of our products for passenger information system announcements in platform waiting areas and on-board trams. We are extremely proud to be a part of one of the first, effective, network-wide adoptions of Hearing Loop technology in the UK. Pete McKeag, Ampetronic's OEM Applications Engineer commented:
"We're so excited that Hearing Loop technology is being embraced by more and more rail network providers and – with our help – is being successfully provided as an option by our customers in Rolling Stock manufacture and Transport Infrastructure. Our work with both Alstom and Efacec demonstrates that our expertise and experience can produce the best solutions, even in the most demanding of installation environments."
NET has installed Ampetronic's XA88 on-board its tram fleet. A specialist audio Induction Loop driver, designed for use on rail and other transport vehicles, the XA88 is the ideal solution for the OEM and vehicle engineering customer.
We also created a brand new product for tram stops, the CLS2-R1, an adaptation of the hugely popular "fit and forget" CLS2 wall mounted amplifier.
Products
Integrator
Alstom (Rolling Stock)
EFACEC (Platforms)