Location: Seattle, Washington, USA
Case study courtesy of Listen Technologies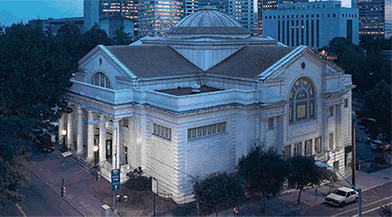 Town Hall Seattle Debuts Ampetronic Hearing Loop by Listen Technologies
For more than 20 years, Town Hall Seattle (https://townhallseattle.org/homecoming/) has hosted affordable, inclusive performances and events. From celebrities to famous authors, concerts to big-name speakers, and science lectures to poetry slams, Town Hall has seen it all. But without a hearing loop, these events haven't been very welcoming to people with hearing loss. However, thanks to a recent multi-million-dollar renovation project for the historic building, Town Hall is now more inclusive than ever.
The building has a new elevator and at-grade entrances, and one of the most exciting new features is a hearing loop, also called an induction loop. According to the Centers for Disease Control and Prevention, 24 percent of adults have hearing loss, so this new loop will benefit thousands of patrons every year.
"Simply put, it's life-altering!" said Cheri Perazzoli, board trustee for the Hearing Loss Association of America and Director of Advocacy for Hearing Loss Association of Washington. "I can arrive at a venue confident that I'll be able to hear, that I won't have to rely on equipment or take my hearing aids out, and that I can create shared memories with my friends and family. Instead of separating and standing in line to check out equipment that may or may not work for me, I can mingle with friends, have a drink, and find a seat like everyone else. When the production begins, with the touch of a button, I can change the program to telecoil, which will provide immediate hearing assistance. Captions can be enormously helpful, but they're a visual accessibility tool, not an audio one. Sound is a powerful thing. Loops create an equitable, inclusive experience."
What's a Hearing Loop?
A hearing loop system transmits the audio signal directly to a Telecoil or, T-Coil equipped hearing aid or cochlear implant via a magnetic field, greatly reducing background noise, competing sounds, reverberation and other acoustic distortions that reduce clarity of sound. Users consider a hearing loop to be the most discreet assistive listening solution. It's also compliant with the Americans with Disabilities Act and International Building Code standards.
"You simply turn your hearing aid to T or telecoil mode," Perazzoli said. "You don't have to out yourself as someone with hearing loss or sit in a special seat. You don't have to call ahead and reserve equipment—which may not be available, charged, or sanitized—or spend time figuring it out. Loops minimize the burden of the ask and the learning curve, making access easier for people with hearing loss."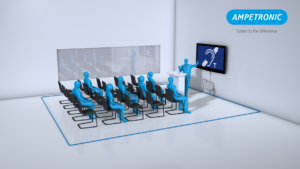 A hearing loop then an electromagnetic field to send sound to people with cochlear implants or telecoil technology in their hearing aids. All the user must do is flip a switch on his or her hearing aid or cochlear implant. The system can also be used in conjunction with an earpiece or headphones if users don't have the right tech in their hearing aids. In addition, patrons who don't wear hearing aids but have difficulty hearing can check out hearing loop receivers.
 "Hearing loops are the most user-friendly and widely used assistive listening technology for several reasons," Perazzoli said. "They are a simple, cost-effective solution to improve the signal-to-noise ratio and speech understanding greatly. With room loops, there's no pairing or connecting to additional equipment. The loop wirelessly transmits the sound directly to an individual's cochlear implant or hearing aid without any additional equipment, such as headphones or neck loops!" 
A hearing loop provides more than amplified sound for users. It delivers crystal-clear audio without vibrations, distortions, or other background noise.
"Typically, loops provide the most clarity and comprehension of any of the assistive listening systems," she said. "They send sound right to our telecoils in our hearing aids, bypassing competing noise like coughing and side conversations. Basically, they shut out the noise we don't want to hear."
Debra Twersky, deputy director at 4Culture, an organization that is very active in King County providing social funding and support for the local cultural work, said one of her first experiences seeing a hearing loop in action was with a temporary loop that Perazzoli facilitated.
"One of the people in the audience used hearing aids and had no idea she could flip a switch and have that experience. She burst into tears. It's a profoundly impactful thing."
What Made the Loop Possible at Town Hall?
Hearing loss advocates, Town Hall officials, cultural funding agency 4Culture, and donors came together to make the hearing loop part of the renovation of the historic Town Hall building.
"We became very interested in the idea of supporting assistive listening technology," Twersky said. "ADA is a priority for us."
She noted that 4Culture funds a variety of ADA-related improvements, such as elevators and ramps. "Of course," she said, "the value of hearing loops is just far beyond what people think of as disability services."
Other Hearing Loops in Seattle
Town Hall isn't the first building with a hearing loop in the area, but advocates are hoping it will be a model for other arts and cultural centers.
"My vision—my dream—is that every music, arts, culture, science, and civic event is accessible to everyone in every city in the world," Perazzoli said. "Telecoils and hearing loops are a simple, reliable, universal solution for hearing assistance."
Other places where you can find a loop in the Seattle area include the following:
Seattle Children's Theatre
The Seattle Rep
Several senior living and senior centers, including Horizon House, Aljoya, Skyline, and Everett Senior Center
Office of Deaf and Hard of Hearing (ODHH)
City and county council chambers, including Seattle, Bellevue, Spokane, and King County
Bellevue Arts Museum
Several libraries, including Bellevue, Bremerton, and Burlington
See a complete list here or find out more here Let's Loop Seattle
The ADA requires buildings with an assistive listening system to have signs indicating the service is available. If the sign includes a "T" in the lower corner, then a hearing loop is available.
For more information on this case study, accessible solutions for audio or hearing loops please contact us on +44 1636 610062, email sales@ampetronic.com or chat to us using the chat window on the right of this screen.