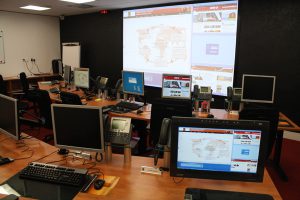 TAQA Bratani is an oil field Exploration and Production Company that operate within the United Kingdom Continental Shelf. They have an impressive acquisition portfolio including a recent purchase of a Central North Sea asset from BP. They have also recently won the Growth Strategy of the Year in the Scottish Business Awards 2012. With inspirational company values such as "Pursuing excellence" and "Stronger together" it was essential that induction loop technology be installed within the Emergency Response Centre.
The Emergency Response Centre is a focal point for relaying and analyzing vital time-sensitive data. Located in Aberdeen, Scotland the facility provides a quick and effective response to situations that may occur in a potentially very dangerous industry. The ERC contains an incident room, a control room and a relatives' suite, providing a quick response to emergency situations and an excellent assistance for training.
With timely communication essential for saving lives it was of the utmost importance that the hearing impaired have access to the same level of up-to-date information during an emergency. It was also imperative that any induction loop installed be as reliable and responsive as every other piece of equipment within the ERC, it is for this reason, and that of providing a consistent and dependable feed of information Ampetronic equipment was chosen by the installer Electrosonic.
Equipment Used:
Image credit – Electrosonic