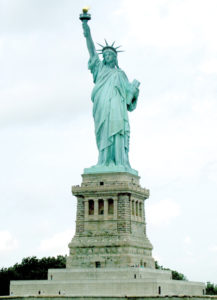 The Statue of Liberty is one of the United States most recognisable landmarks and one that has seen a variety of people pass through Ellis Island. First Erected in 1886 it was a gift to the United States from the People of France and is world renowned.
There are many buildings and facilities on both Ellis Island and Liberty Island that serve tourists visiting the Statue of Liberty. This infrastructure caters for visitors with hearing loss through the effective use of Assistive Listening Devices in the form of Ampetronic hearing loop technology. It has been used in a multitude of different tasks including theatres and meeting rooms.
A conference and meeting hall with multifunctional purposes was identified as requiring Assistive Listening Devices so to adhere to the Americans with Disabilities Act and thus provide equal auditory access to those with hearing loss. The hall utilises an ILD252 hearing loop amplifier to drive the necessary current through the loop, producing the required magnetic field. A Phased Array design has been created to ensure a consistent magnetic field and Standard Compliance for the loop throughout.
Two multi-purpose theatres also use Ampetronic hearing loop technology to provide Assistive Listening. They use the same phased array design, the reason for this is because they are very similar in size and dimension, they also have very similar amounts of metal within the structural make-up of the rooms.
Equipment used:
1 x ILD252
4 x ILD9
3 x SP5