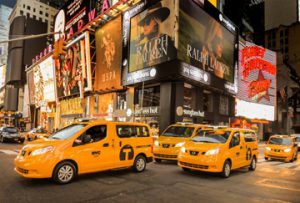 Nissan NV2000 New York Taxis Image © Copyright Nissan
All New Yorkers, including those with a telecoil enabled hearing aid or receiver, can expect to be able to easily communicate with their driver in Nissan's NV200 'Taxis of Tomorrow', which are rolling out across the City now and are expected to replace the aging Crown Victoria cabs.
Nissan, after well over a year of legal wrangling after an initial contract assignment, have been awarded the sole supply of non-hybrid or electric cabs for the next 10 years by the New York Taxi & Limousine Commission. Although the legal process may potentially be restarted, this could mean that there will be up to 15,000 Taxis of Tomorrow brought into service over the next decade and each one will have an Ampetronic Intercom and Hearing Loop system installed.
The campaign to get Hearing Loops installed in Taxis has been a great success. The City was under statutory obligation to produce a 21st Century taxi cab that was not only modern in scope to cater for present day requirements like airbags, climate control, USB charging ports and hygienic seating, but also to comply with the Americans with Disability Act, which includes equal access for people with hearing loss.
The Hearing Access Program spearheaded a campaign in 2006 to promote the benefits of Hearing Loops over other forms of hearing assistance for the application and were aided by technical presentations and successful pilot tests in existing cabs from Assistive Audio over the following four years, which led to Nissan seeking advice from the technologies world leading system designers and manufacturers – Ampetronic.
After consultation with Ampetronic in 2012, Nissan awarded a contract to supply not only the design and Hearing Loop, but the entire duplex intercom solution.
Over the course of approximately 1 year the Ampetronic team worked closely with Nissan's engineers to produce a new Intercom solution and a practical production line integration method. The new product passed Nissan's stringent 11 stage quality verification and performance testing and production started in the latter stages of 2013.
The NV2000 taxis are on the streets now, jump on board and switch to hearing aid to the 'T' setting, or, if you don't have a hearing loss, simply enjoy the clear sound from the intercom that has been optimised for intelligibility – and the option to mute the system so your conversation remains private should you choose it.