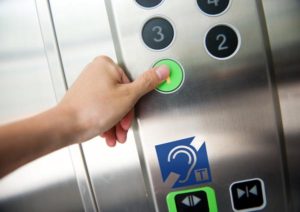 Ampetronic have a range of products specifically designed for lift/elevator applications and specialise in full design and integration solutions for industry.
The achievable aim of integrating hearing loop solutions into elevators is to provide access to the audio component of the elevators functionality, such as floor level and emergency announcements, as well as to make conversation possible through the intercom in the event of a problem.
For a full area coverage, the loops are installed in the top of the car in tubular bars. Loop bars provide, by far, the most robust solution. These bars are custom built stainless steel units that fit inside the lift car, providing an exceptionally tough perimeter loop. The added benefit is that they can also provide an aesthetically pleasing finish, whilst still providing clear, quality and reliable audio. This solution also ensures that the loop is not installed behind the metal ceiling panels and therefore no disruption of the signal from the induction loop can occur.
Ampetronic's range of O.E.M integrated hearing loop drivers are rugged amplifiers designed for elevator applications or other industrial environments. Correctly installed they will provide full area coverage in most lifts to IEC60118-4:2006 standards.
Ampetronic hearing loop solutions have been integrated into the intercoms systems of thousands of new and retrofit elevators/lifts around the word built and operated by leading manufacturers such as KONE, OTIS and Schindler.
Recent examples can be found in locations such as:
The London Underground
Wood Land Station
Paddington Underground Station
Edgware Road Station
Farringdon Station
Cannon Street Station
The systems have also been installed into the Heathrow Terminal 4 departure lounge.
Equipment Used: