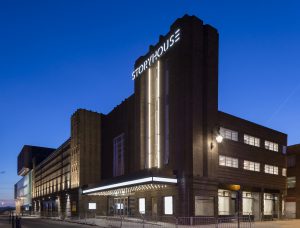 During a two and a half year construction project to transform Chester's Art Deco Odeon cinema into an international cultural centre, Storyhouse, Chester's £37m theatre, library, cinema, arts centre and studio theatre, engaged Stage Electrics to provide Ampetronic hearing loop systems in order to be as inclusive as possible.
Storyhouse incorporates best practice in accessible design in both public and back-of-house areas and reflects the client's high aspirations. The approach to accessibility considered the needs of all users including people with hearing loss. During the design process the team worked with representatives of local disability groups and with Cheshire West and Chester's access team to enable feedback to be given on the proposals.
As a multipurpose space, the Storyhouse project was complex and challenging, not least because the main theatre can be used in different configurations. Configured as either a traditional 800 seat format with stalls, lower and upper circles and an optional orchestra pit, or a much smaller, intimate 500 seat layout with a large thrust stage built above the stalls.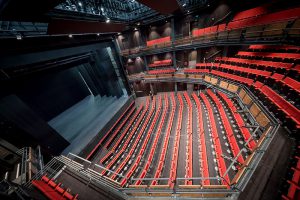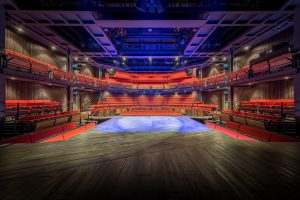 In the thrust stage layout all of the seating below is removed on separate movable wagons. All of these seats needed to be covered by continuous circuits of flat copper tape creating a major challenge for hearing loop system design. An effective solution was found by fitting speakon connectors and looping each wagon off-site; enabling the wagons to be connected and disconnected as required when the theatre configuration changed.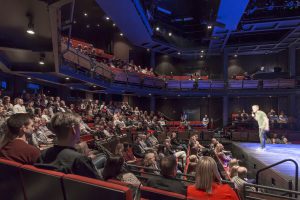 In addition to the flexibility required the system still had to maintain strict levels of overspill control to the stage, orchestra pit and any other surrounding areas where performers or musicians would be positioned. The final design minimised the risk of any interference from the magnetic induction loop signal into musical instruments or audio equipment.
In total the main theatre required 6 separate Ampetronic MLD loop drivers. Systems were also installed in the cinema and on the retractable studio theatre seating.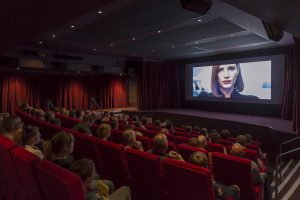 Ampetronic provided commissioning services to test the installed systems against the IEC 60118-4 performance standard before it was opened to the public, and returned 6 months later to retest the system with the in-house audio staff once the theatre configuration had been changed over for the first time.
Commenting on the project Ampetronic Technical Support Manager Chris Dale said:
"Considering the intricacies of the layout and multipurpose nature of the areas involved, the Storyhouse project was extremely complex. Stage Electrics worked closely with Ampetronic to deliver standard compliant systems that offer visitors with hearing loss a chance to enjoy the venue in full, as intended by the owners and developers."
Installed on this project:
MultiLoop Driver 9 230V
MultiLoop Driver 7 230V
MultiLoop Driver 5 230V
Flat Copper Tape, 1.8 mm², 50m reel
Adhesive Printed Warning Tape. 50m reel
To contact Stage Electrics for more information about this case study call 03330 142 102 or visit www.stage-electrics.co.uk
For more information on assistive listening from Ampetronic contact our friendly and knowledgeable team on +44 (0) 1636 610062, email: sales@ampetronic.com
All photographs and illustrations are used with permission of Storyhouse, Chester. Copyright © Ampetronic™ 2019. All rights reserved