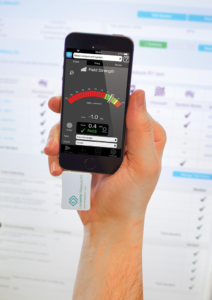 Loopworks™ is a unique suite of online and App-based tools and resources designed by Ampetronic to enable its customers to understand, specify and design Hearing Loop systems.
Loopworks Measure combines an iOS phone or tablet App that utilises a self-calibrating Receiver that together become the most accurate, dedicated field strength meter (FSM) currently available. The Measure App and R1 Receiver are supported by the Loopworks online database and reporting tools. The app can also be connected to any network enabled Ampetronic loop amplifier to automatically control test signals and get direct access to key settings.

IMPORTANT:
Designed for iOS 9.3 and up, the Loopworks Measure App will not function without the Loopworks Measure Receiver Hardware

The Loopworks system helps those with even the most rudimentary training to measure the magnetic field produced by a Hearing Loop system (otherwise known as an Induction Loop) to either assess whether a system is functional or to measure it against the IEC 60118-4 Standard for Hearing Loop performance.
Once users have created and signed in to their Loopworks account, the App can synchronise collected data with the Loopworks online portal, making it possible for users to view, analyse and share their results online. Users can also create test and certification reports. When using the online Loopworks environment there is also support available from our loop experts via telephone or Live Chat.
Product Code:
App