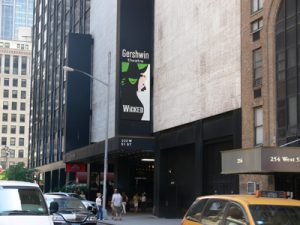 The Gershwin Theatre is a world renowned Broadway theatre that first opened its doors in 1972 and has seen productions such as Sweeney Todd, Frank Sinatra, Fiddler On The Roof and Wicked. Nederlander Organization, the operators of the theatre, quickly identified the need for assistive listening devices to help assist visitors attending shows with hearing loss – they decided that Ampetronic hearing loop technology was the most ideal solution as it is transient and indiscriminative.
The director of facilities and theatre management for Nederlander, Bill Register said that "The Gershwin Theatre recently underwent a renovation with new seats and carpet. With the 10th anniversary of 'Wicked' upon us, we felt now was an opportune time to provide a different kind of upgrade to the theatre. Being installed under the carpet, the hearing loop is invisible to the eyes, but for our patrons with hearing loss, the giant leap in clarity of sound is literally music to their ears."
The Gershwin Theatre hearing loop was installed and tested by Leo Garrison of Metro Sound Pros who have a renowned reputation for quality hearing loop installations. The installation comprises of three separate systems that combine to cover the front half of the lower seating area, the back half of the lower seating area and the upper seating area. Each of those three areas use a pair of ILD1000G amplifiers to drive the hearing loops.
This installation means that the Gershwin Theatre is now compliant with the current ADA requirements for assistive listening for people with hearing loss and means that it can continue to captivate its audiences with shows in an equally accessible and non-discriminative manner.
Equipment used:
Image for illustration only. Copyright of Andreas Praefcke.