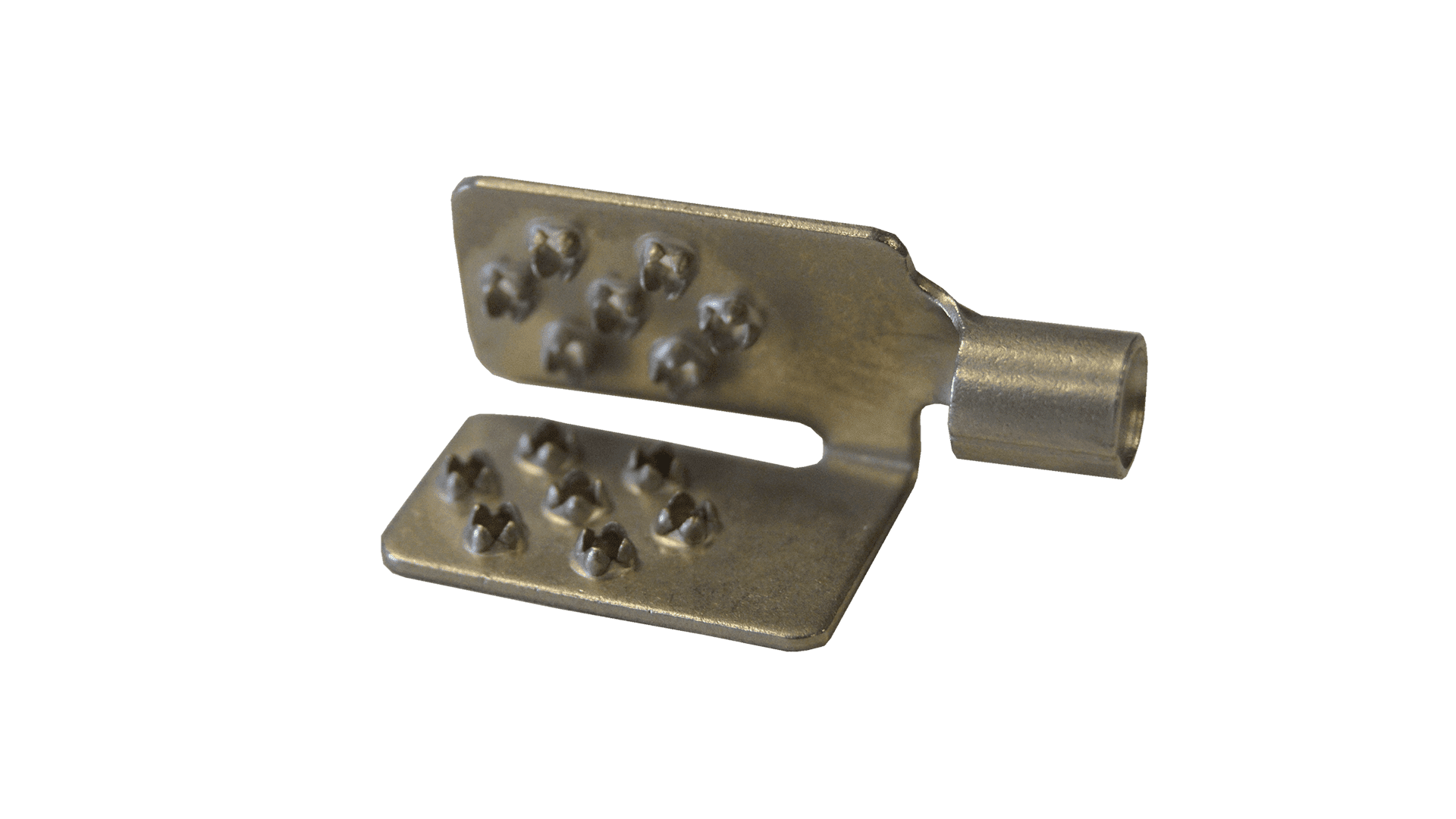 Part code: See specifications for codes
Cable crimps connect feed cables from a driver to flat copper tape loops in a quick, easy and effective manner. Crimps also help to negate the requirement for a hot works permit, which can sometimes be a struggle to acquire onsite when you need to solder the copper tape to the feed cables.
The crimp tool compresses the connector to the round feed cable and clamps the teeth of the crimp onto the copper tape. There are three different types of crimps, two for different gauge wires (12-10AWG and 16-14AWG) and one for extending lengths of copper tape.
hidden tab
Features
Quick and simple to install
Helps negate a hot works permit
Different wire gauge sizes available
Copper tape to copper tape crimps available
Specifications
Crimp – Feed Cable to Copper Tape, 12-10AWG
Part Code:
FH50501
Wire Gauge:
12-10AWG (3.3mm² to 5.3mm²)
Insulation:
Not Insulated
Contact Plating:
Tin
Contact Material:
Copper
Size:
27.1mm x 11.5mm
Inner Diameter:
3.7mm
Crimp – Feed Cable to Copper Tape, 16-14AWG
Part code:
FH50503
Wire Gauge:
16-14AWG (1.3mm² to 2.1mm²)
Insulation:
Not Insulated
Contact Plating:
Nickel
Contact Material:
Copper
Size:
24.5mm x 11.5mm
Inner Diameter:
2.2mm
Crimp – Splice Copper Tape to Copper Tape
Part Code:
FH50502
Insulation:
Not Insulated
Contact Plating:
Tin
Contact Material:
Copper
Size:
24.5mm x 11.5mm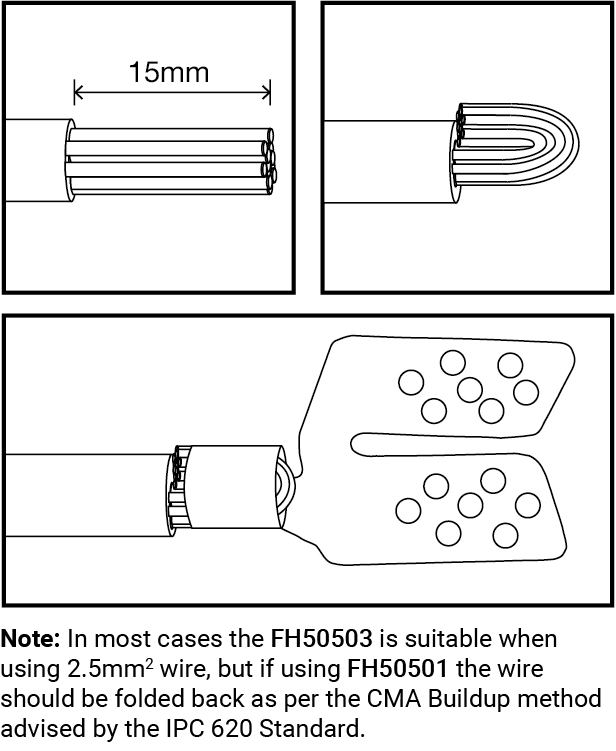 Downloads
Specifications (PDF)
Click here to open datasheet in a new tab
Applications include:
Places where a hot works are not permitted
Under floor Multiloops / Phased Array
Quick and simple to install
Helps negate a hot works permit
Different wire gauge sizes available
Copper tape to copper tape crimps available
| | |
| --- | --- |
| FH50501      | 12-10 AWG (3.3mm² to 5.3mm²) |
| FH50502        | Crimp – Splice Copper Tape to Copper Tape |
| FH50503 | 16-14 AWG  (1.3mm² to 2.1mm²) |
| GJ00002 | Tool |
Crimp – Feed Cable to Copper Tape, 12-10AWG
Part Code:
FH50501
Wire Gauge:
12-10AWG (3.3mm² to 5.3mm²)
Insulation:
Not Insulated
Contact Plating:
Tin
Contact Material:
Copper
Size:
27.1mm x 11.5mm
Inner Diameter:
3.7mm
Crimp – Feed Cable to Copper Tape, 16-14AWG
Part code:
FH50503
Wire Gauge:
16-14AWG (1.3mm² to 2.1mm²)
Insulation:
Not Insulated
Contact Plating:
Nickel
Contact Material:
Copper
Size:
24.5mm x 11.5mm
Inner Diameter:
2.2mm
Crimp – Splice Copper Tape to Copper Tape
Part Code:
FH50502
Insulation:
Not Insulated
Contact Plating:
Tin
Contact Material:
Copper
Size:
24.5mm x 11.5mm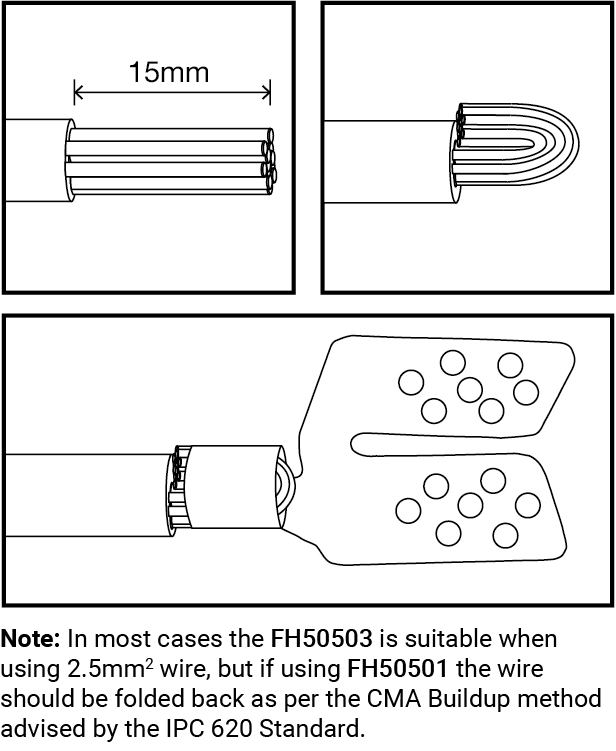 hidden tab
Features
Quick and simple to install
Helps negate a hot works permit
Different wire gauge sizes available
Copper tape to copper tape crimps available
Specifications
Crimp – Feed Cable to Copper Tape, 12-10AWG
Part Code:
FH50501
Wire Gauge:
12-10AWG (3.3mm² to 5.3mm²)
Insulation:
Not Insulated
Contact Plating:
Tin
Contact Material:
Copper
Size:
27.1mm x 11.5mm
Inner Diameter:
3.7mm
Crimp – Feed Cable to Copper Tape, 16-14AWG
Part code:
FH50503
Wire Gauge:
16-14AWG (1.3mm² to 2.1mm²)
Insulation:
Not Insulated
Contact Plating:
Nickel
Contact Material:
Copper
Size:
24.5mm x 11.5mm
Inner Diameter:
2.2mm
Crimp – Splice Copper Tape to Copper Tape
Part Code:
FH50502
Insulation:
Not Insulated
Contact Plating:
Tin
Contact Material:
Copper
Size:
24.5mm x 11.5mm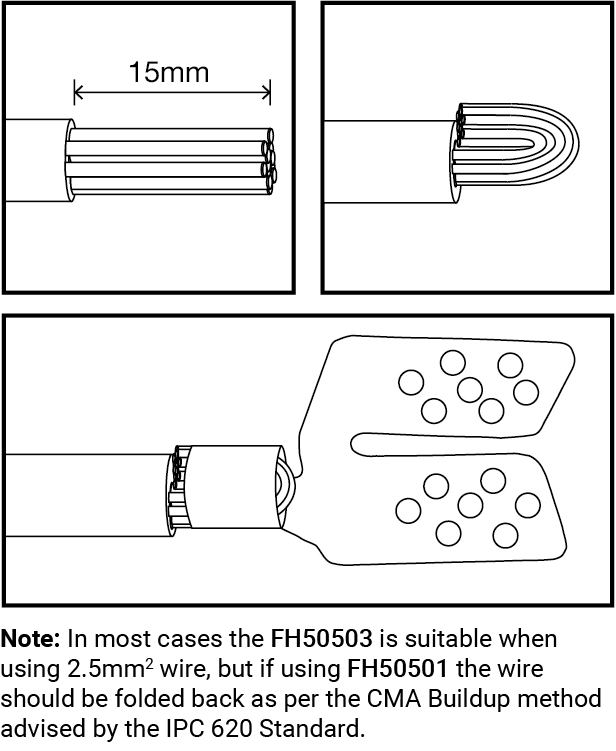 Specifications (PDF)
Click here to open datasheet in a new tab
Downloads
Book a demonstration
For more information on these products or any other requirement you may have, please complete the form or call us on +44 (0) 1636 610062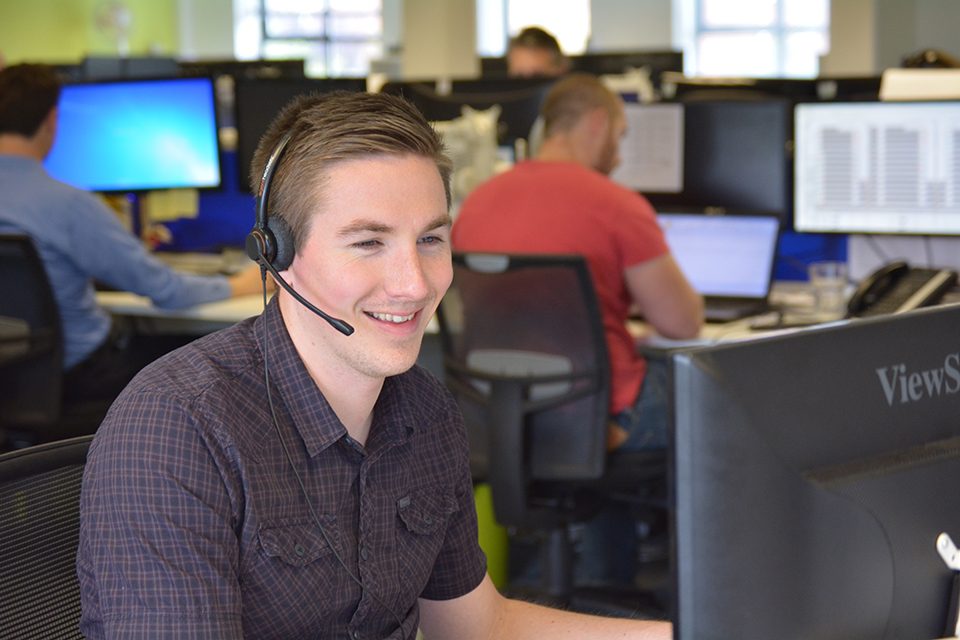 Click here to contact us for more information