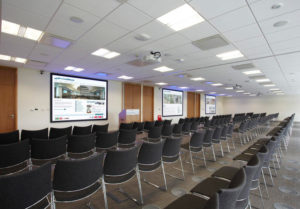 The Colworth Science Park is a facility that extends over 100 acres and houses 900 scientists, technologists, professionals and support staff all help to develop advancements within molecular and cellular biology. These advancements help to improve food and products ranging from toothpastes to washing powders. The meeting rooms that required installation had a multitude of purposes, therefore any audio visual system and subsequent hearing loops had to be as versatile as the space itself. The hearing loops also ensure that the Equality of Access Act 2010 is adhered to.
The hearing loop installation was part of a much larger professional audio visual upgrade and installation by Reflex Ltd. This complex set-up saw the installation of motorised projectors, projector screens, smart interactive whiteboards, ceiling mounted speakers, microphones and of course Ampetronic hearing loops.
Three different designs were created for three separate rooms, each utilising a pair of ILD1000Gs within a Phased Array system. These three rooms however could be combined to create one much larger room. It was therefore paramount that the loops in all of the rooms could be combined together to make one larger phased array system, for this to work, each loop has to run in the same polarity as one another. Through careful design and implementation the resulting systems provide unparalleled assistive listening to those with hearing loss attending the facility. All of the installed Ampetronic systems comply with the internationally recognised IEC60118-4 2006 standard.
Reflex have been complimented on their ability and ease of installation with Gary Jones the Goodman's Exchange manager saying that "The works were undertaken in a professional manner, on time and within budget."
Equipment used:
6 x ILD1000G Amplifiers
3 x custom Phased Array Designs
Images for illustration only. Copyright Reflex AV