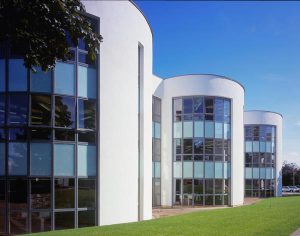 The University of Dundee is an excellent establishment for world-class education and is "one of the top ten UK Universities for teaching and learning – Times Higher Education Student Experience Survey 2010." The installation was part of a much larger long term regeneration project that saw the creation of a new teaching block. It was deemed essential that induction loop equipment be installed, providing the highest quality of access to information for the hard of hearing students that attend the University; it was also crucial that the university adhere to the UK's Equality Act 2010.
After Consultants White Young Green assessed the options for induction loop technology they decided that Ampetronic equipment would provide both the highest quality and the utmost reliability. Streamtec were then hired to complete the installation of the New Teaching Block. This new block has four Lecture theaters all within close proximity to one another, a larger room (280 seats) is directly above two smaller lecture theatres (each containing 180 seats), therefore containing spill in all of these rooms was critical so that the loops did not interfere with one another. The 220 seat room has a retractable seating block and therefore "Ensuring that the cable doesn't catch when the seating block is moved had to be overcome." says Streamtec's Ian McMillan.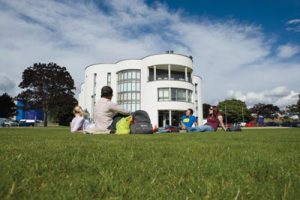 Previously working at the Dundee University on 27 teaching and staff rooms over three floors with different installers Impact Marcom. Stuart Dockerill explains how his company Impact Marcom had to work very closely with the Ampetronic team to "ensure that the arrays were installed to maximize their low spill effectiveness" because of the closeness of the rooms.
Ampetronic induction loops has had positive feedback with Ian McMillan from Streamtec saying that "We worked very closely with Ampetronic to ensure that the design worked flawlessly. But, having a four year relationship with them, this was a very smooth process." And Impact Marcom's Stuart Dockerill commenting on how "The University had decided on Ampetronic systems when the tender was awarded".
Equipment used:
New teaching block
27 other teaching and staff rooms