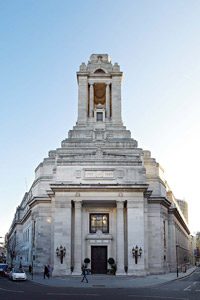 The Freemasons Hall in London is the headquarters for the governing body of the Freemasons, the United Grand Lodge of England. The Freemasons have a long and celebrated history of tradition and honor, the hall itself was built between 1927 and 1933 as a memorial to the 3225 masons that died during the First World War. To ensure hard of hearing people had equal access to services in areas such as the Grand Temple it was seen as essential that induction loop technology be installed.
Although structurally beautiful the building was built before induction loop technology was even created, therefore, the building itself didn't allow much room for them within its infrastructure. Also, because the building is used for both Masonic meetings and filming contracts, it was of the utmost importance that the installation be as discreet as possible and not interfere with the architecture.
Ampetronic were not only able to provide the induction loop equipment, but were also able to provide the greatest design solutions via a site survey, Engineer James Bottrill said that "Bearing in mind the restrictions placed on installation locations by the ornate architecture, and knowing that Freemason's Hall is a steel-framed structure with concrete floor slabs throughout, a site survey was considered essential if an acceptable result was to be assured. The data collected on site enabled us to design a system which would assure good performance, whilst minimising the complexity of the installation." The equipment and designs were implemented and installed by Surrey-based Scanaudio and James concludes that the induction loop "will be of great benefit to hearing aid users attending functions in this spectacular building,"
Equipment used:
ILD1000G Phased array kit and Ampetronic low loss phased array loop design.