There are six basic types of loop layout for a hearing loop system which can be selected based on its intended function. See below.
What do these pictures mean?
Ampetronic colour plots show the distribution of magnetic field around a loop system, from the side or from above. Black is -40dB below the target field strength, effectively background noise only. Green areas meet the target field strength, white exceeds it. The plots give a good indication of how well a loop will meet the requirements for your application.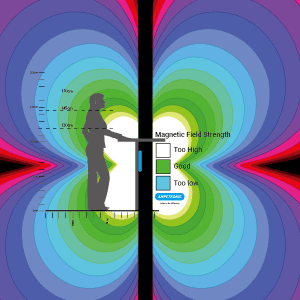 Overspill (counter) loop
One to one communications
Counters, reception desks, intercoms etc.
1 small amplifier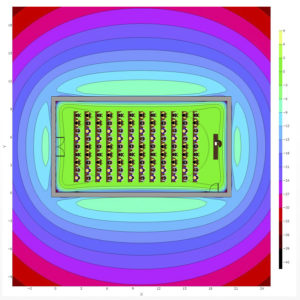 Perimeter loop
Area coverage, spaces up to 25m wide with no metal loss
Area coverage, spaces up to 2-6m with metal loss (depends on level)
Spill allowed up to 4x width away
1 loop amplifier required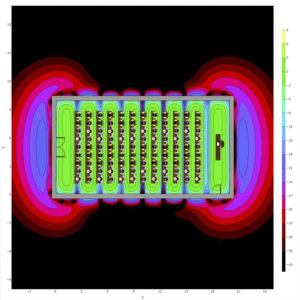 Single array
Areas with metal loss but wider than 2-6m maximum
Only for fixed seating areas, e.g. theatre, classroom
1 loop amplifier required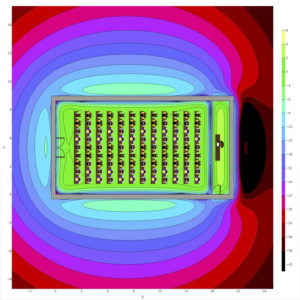 Cancellation loop
Areas suitable for a perimeter loop where spill control is required on one side only
Adjacent classrooms etc.
1 loop amplifier required
Loss array loop
Large areas with metal loss
Areas in excess of 25m wide
Balconies in theatres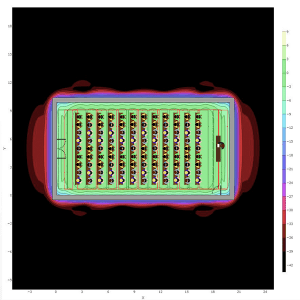 Ultra low spill array
Adjacent rooms
Confidentiality
Nearby interfering systems
Large areas with metal loss / in excess of 25m wide